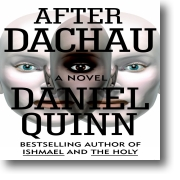 Phoenix, AZ (PRWEB) October 12, 2011
Daniel Quinn fans have new reason to be excited as one of the author's beloved works finally makes it to audiobook format. "After Dachau" audio publisher Steerforth Press, LLC recently signed voice actor John McLain to produce the project, available now at the Apple iTunes Store and through the Audible.com website (http://www.audible.com).
In "After Dachau," Quinn explores a world in which Nazi Germany wins World War II and fulfills its Aryan vision, removing all but Caucasians from the entire world's gene pool. At some point in the future, Quinn argues, that horrific genocide will become simply a fact of life around which society has evolved, with nobody really knowing the historical facts of it, nor caring. Quinn then uses the intriguing concept of reincarnation as a means by which members of this future society come face to face with the haunting reality of their pivotal societal turning point.
John McLain's soothing baritone provides the perfect soul to Jason Tull, Jr., the narrator character in "After Dachau." "I was thrilled to be asked to work on this project," John says. "Frankly, I was surprised an audiobook version had not yet been done for this book, since Daniel Quinn is such a widely known author. Ten years since it was published, it's exciting to know this book will reach a whole new audience in this new, convenient medium."
For more information or to order the audiobook, go to http://www.johnmclainvoiceovers.com/AD
Daniel Quinn is the author of 13 books, including his Turner Tomorrow Fellowship Award winning novel, "Ishmael." Actor John McLain has given voice to a multitude of works on TV, radio, internet and audiobooks including a recent recording of "The Resurrection of Nat Turner: Part I, The Witnesses" by Sharon Ewell Foster (Oasis Audio). John will soon begin narrating another Daniel Quinn novel, the 2002 metaphysical thriller "The Holy."
###