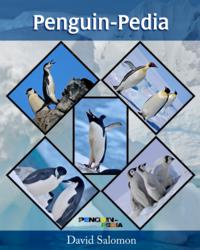 Penguin-Pedia is an informative and inspiring tribute to the seventeen species of penguins on the planet today.

Mike Bingham, Organization for the Conservation of Penguins
Dallas, TX (PRWEB) October 12, 2011
Penguin-Pedia! When most people think of a penguin, they envision a tuxedo-clad Emperor penguin living in the Antarctic Peninsula as documented in the film "March of the Penguins." But did you know there are actually 17 species of penguins living on our planet today?
New book "Penguin-Pedia: One Man's Search for the Penguins of the World" (Brown Books Publishing Group), author and photographer David Salomon of Dallas, Texas, introduces readers to 17 species of penguins living in such faraway places as Africa, the Falkland and Galapagos Islands, Peru, Chili, and Australia. Readers may have never known the majority of these penguins existed – and they will be fascinated to learn about them.
""Penguin-Pedia' is an informative and inspiring tribute to 17 species of penguins on the planet today," says Mike Bingham, president of the Organization for the Conservation of Penguins. "If you are looking for an entertaining book about penguins with excellent images and lots of information, the "Penguin-Pedia" is for you," adds Gerald Dick, PhD, MAS, CEO, World Association of Zoos and Aquariums.
Salomon was struck by "penguin mania" following a trip to Chilean Patagonia, where he experienced his first penguin sighting. "The first time I ever saw penguins I was struck by their social structure and abundance of emotions. I walked around them for hours, taking pictures and watching them through the lens of my Nikon camera. They gathered on the beach, exchanged verbal messages, played with each other and even fought. I was both enchanted and intrigued to say the least," says Salomon.
So began his educational journey to learn as much as he could about these incredible creatures, spending the next two years flying to remote places such as Argentina, Africa, and the Galapagos Islands. Through exhaustive research, Salomon discovered that finding answers to his questions about penguins proved challenging. That's when the idea for a comprehensive book of penguin information - complete with compelling pictures - came to mind. In "Penguin-Pedia," Salomon reveals the history behind their existence and goes into great detail about each penguin species from the largest, the Emperor, to the smallest, the Little (Fairy), with each chapter broken down into 16 different sections.
Salomon's thirst for knowledge became the driving force behind "Penguin-Pedia." The more he learned, the more he became aware of their need for help. "Penguin Pedia" is Salomon's contribution, which he hopes will help younger generations gain knowledge and better understand the penguins, their needs and the dangers they are facing. Says Salomon, "If we want to help them, we must first educate ourselves and learn who these penguins are and why they are suffering."
For readers eager to experience their own personal journey to penguin paradise, Salomon provides a detailed travel glossary at the back of the book, coupled with the approximate cost to visit each location, as well as a list of exhibits around the world.
To learn more visit: http://www.penguin-pedia.com and http://www.facebook.com/PenguinPedia
http://www.waza.org and http://www.penguins.cl
About Brown Books Publishing Group:
Brown Books Publishing Group is a Texas-based, independent publisher providing manuscript development, editorial expertise, website design, cover design, fulfillment and distribution, as well as marketing and public relations. A referral-only publisher, Brown Books has ushered in A New Era in Publishing™ where authors who've chosen to retain the rights to their intellectual property are invited to participate in the publishing process from start to finish. Relationship publishing is the mainstay of Brown Books Publishing Group and its many imprints: The Small Press, Brown Christian Press, Brown Books Digital, and Personal Profiles. For more information about BBPG visit http://www.brownbooks.com or to schedule an appointment with the publisher, Milli Brown, please contact Rayven Williams at rayven(at)brownbooks(dot)com or 972-381-0009.
###