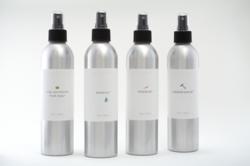 Winchester, VA (PRWEB) October 12, 2011
Planning a corporate golf tournament with a bipolar alcoholic colleague? Good times. When people go to work, they pretend to check personal baggage at the office door. But that doesn't happen.
HR Products recently launched a set of aromatherapy room sprays targeting common behavior-related complaints: narcissm; passive/aggressive behavior; and apathy in the workplace.
Priced at $13.99 each, The Antidote for Ego™; Apathy™;Passive™ /Aggressive™ aromatherapy room sprays are a perfect gift for home and office workers.
Heidi K. Rettig, the company's founder says, "We each bring a psychology to the workplace and more often than not, that psychology brings a level of dysfunction to our projects. Our colleagues, without any background information whatsoever, will have to map and respond to these dysfunctions each and every day.
"Being confronted by chronic narcissism or passive/aggressive behavior can lead to apathy on the job. The reality is that the only power you have in these situations is to find another job (that hopefully has a set of dysfunctions more amenable to your own), or make the best of the situation you're in."
Rettig says, "The Antidote for Ego™; Apathy™ and the other aromatherapy sprays are about making the best of it. Even though the names and descriptions are written to make people laugh, the aromatherapy oils are custom blended to produce a positive emotional response. The sprays won't solve all your problems, but they will make people feel better about work in that moment."
The products are 100 percent Vegan and the essential oils are organically sourced, whenever possible. Apathy™ is the most popular product on the website. The blend of lavender, grapefruit, and rosemary essential oils cleanse and freshen the air and also enhance memory and concentration.
Rettig advises, "There are lots of places to use The Antidote for Ego™ , Apathy™ , and Passive™ /Aggressive ™ aromatherapy sprays. Keep a bottle in the restroom or on your desk. Spray it after lunch to rid your cubicle of food smells. Spray it on a tissue and carry it in to meetings. The label was designed to peel off if you are worried about someone seeing it on your desk. But they aren't just for work. I can imagine plenty of in-law situations where they might be pretty helpful."
# # #