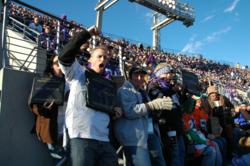 Hunt Valley, Maryland (PRWEB) October 12, 2011
AlarmWATCH, Inc., a UL-certified Central Monitoring Station, known for its 24/7 alarm monitoring, innovative business solutions, and responsive customer-care approach just announced the winners of its 2011 'Protect-A-Thon'® security dealer challenge.
The second annual Mid-Atlantic competition spurs alarm security dealers to compete for Baltimore Ravens tickets and football memorabilia to grow their businesses. Interlogix, a UTC Fire & Security Company, part of the GE Corporation (General Electric) and AlarMax Distributors, Inc., co-sponsored the event.
Participants in the 2011 Protect-A-Thon include both large and small security dealers who protect businesses and residences from emergent and personal threats including burglary, fire, identity theft, weather related causes or at times, attacks of terror. The top three winners of this year's challenge: Dave Cogar - Alarm Pro, John Hemp - Modern Comfort Security and Wayne Harrison - Chesapeake Systems Service. Winners, along with their teams, will celebrate their rewards in a premiere suite with box seats at the Week 6 Ravens Game on Sunday, October 16th, against the Texans at M&T Bank Stadium, Baltimore, MD.
"These security dealers, along with their teams, kicked the pants off the competition during this three-month extreme selling activity," said Steve Heier, Manager of Operations for AlarMAX Distributors, Inc. "This event is a great way to recognize leaders in the field who are up for any challenge to increase recurring revenues and add value to existing customer services."
Nearly a thousand independent U.S. security dealers coast to coast rely on the AlarmWATCH central monitoring station for its state-of-the-art technology and highly trained professionals who keep a vigilant watch over their customers' businesses, possessions and residences.
"These guys and gals are hard working professionals that dedicate days, nights and weekends to their customers' livelihoods," said Guy Kline, VP of Sales and Marketing for AlarmWATCH, Inc. "They enjoy the Protect-A-Thon because it offers big rewards and energizes their employees to accelerate sales activities. Our company and co-sponsors know the ins and outs of the security business from the ground up, including all the latest technology advancements, and security alert best practices. We do what it takes for our dealers and they appreciate it!"
The Protect-A-Thon is one of many programs that differentiate AlarmWATCH from other monitoring stations, product manufacturers and security distributors. Kline, who designed the sports competition, continues to create innovate services to serve its independent security dealers' customers' needs. "Last year, we sponsored the Protect-A-Thon and it was fun and successful," said Interlogix District Manager, Jim Porter. "It's hard to beat this event for building good business relations."
In addition to the Protect-A-Thon challenge, AlarmWATCH dealers can request customized sales and marketing kits and tap into a wide range of services and training, including automated answering, collective buying discounts, accounting, insurance, supplies, and signage. Another advantage for dealers is to attend sales and technical workshops with certification opportunities offered throughout the year at the AlarmWATCH, Inc. University.
"Differentiation and competitive advantages are the name of the game in this economy, adds Kline. "The Protect-A-Thon generates excitement for our dealers and in turn gets everyone motivated to win. At the end of the Ravens game, (whether win or lose) we all feel good about what we do. Keeping customers safe from threats or dangerous acts can be a challenge and this incentive program recognizes the champs off the field who protect us day in and day out."
AlarmWATCH offers the most comprehensive array of business and marketing services and competitive advantages available for independent security alarm dealers across the U.S. To learn more about all the products and services it offers, including the new personal identity theft protection program, IdentaSafe, contact Guy Kline at 866-500-8808 or email at guykline(at)alarmwatchinc(dot)com.
About AlarmWATCH, Inc.
AlarmWATCH, Inc. (http://www.alarmwatchinc.com) is a full service UL-Certified Central Monitoring Station, capable of handling all alarm formats to protect commercial and residential properties from crime and emergent threats. Founded in 1990, the company has developed a solid reputation for its distinctive offerings of innovative security products and top-notch dealer support services. With state-of-the-art software and hardware along with individualized customer care, AlarmWATCH dealers ensure optimal security monitoring performance and can offer a comprehensive range of security protection products unique to each client's preferences and needs.
###