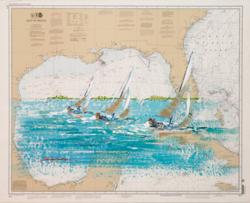 "I try to arrive at a definitive statement, a kernel of a landscape, or an experience which is universal in appeal." - Kerry Hallam
Greenwich, CT (PRWEB) October 12, 2011
World renowned Impressionist artist and charming adventurer, Kerry Hallam, will be visiting Martin Lawrence Galleries 433 Royal Street, New Orleans on Saturday, October 15th from 7-9 pm to unveil his latest original works.
Art collectors will not want to miss meeting this celebrated Impressionist. Known internationally for his boldly colored Mediterranean themed original acrylic on canvas paintings, limited edition serigraphs and sailing paintings on nautical charts, Kerry Hallam has made capturing the intrinsic beauty of exotic ports of call his quest. Drawing inspiration from Post-Impressionists such as Van Gogh, Cezanne, Matisse and Dufy, it has been said that he conveys the soul and drama of the places he paints.
Kerry Hallam is truly delighted to meet with collectors in person and is looking forward to conversing about his newest creations and to dedicating purchased works. And, in addition to being able to view and acquire from his latest collection, we are sure that he will also have some fascinating stories to recount!
Martin Lawrence Galleries is located in prime locations in ten cities across the United States: New York (Soho), Boston, Chicago (Oak Brook), New Orleans, Dallas, La Jolla, Newport Beach, San Francisco (two locations), Las Vegas, and Maui. Founded in 1975, they are distinguished in their commitment to offering the very best in fine quality artwork by Picasso, Chagall, Rembrandt, Warhol, Haring, Erte, Liudmila Kondakova, Robert Deyber, Philippe Bertho, François Fressinier, Kerry Hallam and many others. They have loaned nearly 250 artworks to over 30 museums around the world, including the Whitney Museum of American Art, the Museu Picasso in Barcelona and the National Gallery of Art in Washington, D.C. In August 2011, Martin Lawrence Galleries opened their 11th location, a 26,000 square foot mega-gallery in Caesar's Forum Shops, Las Vegas.
For a video presentation featuring Kerry Hallam at work, please visit: http://www.youtube.com/watch?v=iXkP5xjB9Io For more information about Kerry Hallam at Martin Lawrence Galleries New Orleans or other events taking place in the Martin Lawrence Galleries network, please contact corporate headquarters at 203-869-9500. You may also log on to the Martin Lawrence Galleries website at http://martinlawrence.com/index5_rev.html, follow Martin Lawrence Galleries on Twitter at Twitter.com/TweetMLG or "Like" Martin Lawrence Galleries on Facebook.
# # #