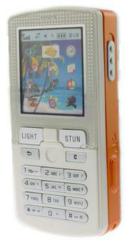 If she hadn't been carrying her stun gun, she very well might have been killed!
(PRWEB) October 20, 2011
AntiBadGuy is now offering the Pretender Cell Phone Stun Gun in orange, as well black and pink. Often times when people think of self defense they immediately think of firearms. However, in many instances a gun is far from superior. While it does offer some measure of control over certain situations, its use often comes with great cost.
Non-Lethal Weapons on the other hand, can be used even on people that we don't want to permanently harm. Such was the case for one single mother from Minnesota, whose son had begun experimenting with psychedelic drugs. "He came home late," she told the police, "and just started going berserk! He started throwing things and punching through the walls. Then, when I tried to calm him down, he threw me to the ground!" She got up and called 911, and when her son came toward her, she pulled out the cell phone stun gun that she recently purchased from AntiBadGuy.Com and dropped him to the ground with it. He then told her that if she used it on him again he would kill her. To this she replied, "If you get up again, I'm going to use it again!" Her son remained on the floor until police arrived. After which one police officer told her that if she hadn't been carrying her stun gun, that she very well might have been killed!
This is just another perfect example of AntiBadGuy's non-lethal weapons allowing for far more control in potentially violent situations. AntiBadGuy also offers many other household safety items, such as the child safety pool alarm, which notifies parents when children or pets have fallen into the family pool. Entry into the pool will be detected by the Pool Alarm's electronic sensor, triggering a loud pulsating alarm at the unit and inside the owners house from the remote receiver. After the pool alarm is installed, it can't be deactivated; it is always in the alarm ready mode until it is put it in Sleep Mode. If someone who does not know how to put the Pool Alarm in sleep mode attempts to remove the alarm, it will sound an alarm.
In addition to offering self defense products, such as pepper spray and tasers, AntiBadGuy also offers a complete line of Home Security Products such as alarms, complete surveillance systems, IP Cameras, and door braces.
Currently, AntiBadGuy is giving away a free stun gun (or similar prize) every single week! In order to qualify for the free prize, you must be at least 18 years old, and live in an area that we can legally send the product to. In order to sign up, visit our Facebook Page.
If you are curious to know the legality of stun guns and pepper sprays in your state, visit our web site to find a list of restricted areas for these items.
About the Company: AntiBadGuy began in 2007 after the tragedies at Virginia Tech. The founder of the company wanted to raise awareness of practical self defense strategies. He spent most of the first years of his business giving his products away! If you would like to support AntiBadGuy by purchasing our products, you can do so by visiting our website at http://antibadguy.com.
# # #