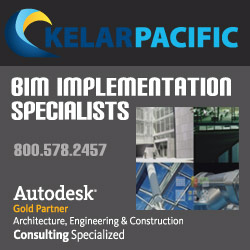 "With our qualified staff of technical experts and design professionals we are equipped to move a business forward into the modern design realm that is steadily becoming the standard."- Derek P. Renn
AEC Technical Manager, Kelar Pacific
San Diego, CA (PRWEB) October 13, 2011
Kelar Pacific, a leading southern California design and consulting company, adds to its list of Autodesk qualifications with the new Consulting Specialist Designation. Kelar Pacific's tagline is "Solutions Beyond the Box" and they offer just that with the addition of a suite of BIM implementation packages in line with their new credentials.
This accomplishment sets Kelar Pacific apart from other Autodesk resellers as the company is one of few across the United States to earn the title through a rigorous approval process, including client recommendations and submitting a portfolio of consulting experience. With this attainment, Kelar Pacific adds to its previously held Autodesk, Inc. associations as an Autodesk Gold Partner as well as an Autodesk Authorized Training (ATC) and Authorized Certification Center.
Kelar Pacific has a dedicated staff of architects, engineers and construction professionals to help businesses with the transition from 2D design to 3D modeling and BIM. Kelar's implementation packages begin with a starter package called Standard - AEC Project Startup. Not unlike Autodesk Suite offerings, Kelar Pacific's implementation packages come in three tiers moving on from Standard to Premium and Ultimate Packages. The three implementation products are predetermined however, acknowledging unique challenges that architecture, engineering, and construction (AEC) companies face, Kelar also offers custom solutions on a case-by-case basis determined with the client through an Assessment Interview. The standard package includes the following services:
Standard AEC Project Startup:

Design Process Assessment interview
Implementation plan deployment roadmap document
Autodesk certification testing to gauge user experience
2 day Introduction Training Package
2 day Intermediate Training Package
8 hours of on-site mentoring
Each additional implementation program adds more value on top of the AEC Project Startup services ranging from the addition of live workshops to the package to family creation to extended one-on-one mentoring. Full program offerings can be found at http://kelarpacific.com or by calling 800.578.2457.
Autodesk, a world leader in 3D design, engineering and entertainment software offers BIM solutions in its Revit Software and Building Design Suites, while Kelar Pacific offers expertise in BIM consulting and implementation.
Implementation Package Video Overview: http://kelarpacific.com/bim-services#BIMimplementationVideo
About Kelar Pacific:
Throughout our 28 years in business, Kelar Pacific has been on the forefront of helping industry leading design and construction professionals utilize the latest technology. As an authorized reseller of Autodesk and Meridian software, we offer a complete suite of building and infrastructure design, and project management software. Our expert staff combines training, consulting, mentoring, implementation, BIM and drafting services with our full suite of products to provide our clients with custom tailored comprehensive workflow solutions. For information visit http://www.kelarpacific.com
Autodesk, ATC and Revit are registered trademarks or trademarks of Autodesk, Inc., and/or its subsidiaries and/or affiliates in the USA and/or other countries.
###