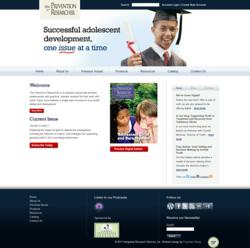 . . . the new website provides easy access to preview digital editions of The Prevention Researcher.
Eugene, OR (PRWEB) October 13, 2011
The Prevention Researcher, the quarterly journal focused on successful adolescent development, launched a new website to serve professionals who work with young people.
The redesigned website allows visitors to preview digital editions of the journal and to access an archive of past issues. Its fresh, clean design and navigation features make the site easy-to-use by readers served by The Prevention Researcher -- school counselors, teachers, social workers, psychologists, and others who work with youth in a wide variety of organizations.
"We're pleased with the way the new website looks and feels," said Steven Ungerleider, PhD., founding editor of The Prevention Researcher. "Even more important, the easy access that the site now provides to preview our new digital editions, along with lower priced subscription options available, will better meet the needs of professionals we serve."
Along with descriptions of the content of every issue of the journal, the website provides news and online events on adolescent-related topics, reviews of books and websites of interest to youth-serving professionals, and individual articles available from The Prevention Researcher.
The journal's blog and social networks including Facebook, Twitter, Linked In, and Google +1 are prominently featured. In addition, podcast interviews with professionals in the adolescent behavioral research field are easily accessed on the site.
For more information about The Prevention Researcher and to view the new website, visit http://www.TPRonline.org.
###