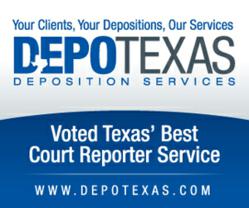 We Sincerely Thank Each of Our Loyal Clients for Voting Us The Best Court Reporting Services Provider in Texas
Houston, TX (PRWEB) October 24, 2011
DepoTexas, the largest deposition services and litigation support firm in Texas, is proud to announce that it has been voted Texas Lawyer Magazine's "Texas Best" #1 court reporters service for both Austin and Houston.
Distributed via email to thousands of Texas attorneys, the second annual Texas' Best survey was conducted this past July by Texas Lawyer's business department. The ballot consisted of several hundred eligible firms in over forty categories encompassing legal support, business, and lifestyle products and services for the Austin, Dallas, and Houston legal communities.
"We are honored to be recognized and very proud of our work," said Ross Schindler, Chief Marketing Officer of DepoTexas. "We sincerely thank each of our loyal clients for voting us the best court reporting services provider in Texas."
In conjunction with this announcement DepoTexas will introduce its new Winning Means Everything advertising campaign. It is designed to dually reflect the Texas' Best award honor and communicate the Company's continued commitment to providing court reporting and legal video service excellence for leading law firms and corporate legal departments throughout the nation.
About DepoTexas:
Since 1987, DepoTexas has provided fast, accurate and reliable court reporting and legal video services to the legal community. As the largest privately held depositions and litigation services firm in Texas, the Company is headquartered in Houston with six additional fully staffed office locations throughout the state. The Company is known for its industry knowledge, technology leadership, and professionalism. Clients count on DepoTexas to help them better manage their caseloads and strengthen their productivity. For more information, visit http://www.DepoTexas.com.
Contact:
DepoTexas
Andrea Abramson
888.893.3767
pr@depotexas.com
# # #