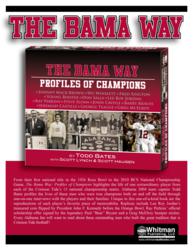 Nashville, TN (PRWEB) October 18, 2011
The highly anticipated book The Bama Way: Profiles of Champions is available in stores and online today, Tuesday, October 18. From the University of Alabama's first national title in the 1926 Rose Bowl to the 2010 BCS National Championship Game, The Bama Way: Profiles of Champions highlights the life of one extraordinary player from each of the Crimson Tide's 13 national championship teams.
Alabama 2004 team captain, Todd Bates, profiles the lives of these men, who were true champions both on and off the field, through one-on-one interviews with the players and their families. Featured in this book are Johnny Mack Brown, Wu Winslett, Fred Sington, Young Boozer, Don Salls, Lee Roy Jordan, Ray Perkins, Steve Sloan, John Croyle, Barry Krauss, Jeremiah Castille, George Teague and Greg McElroy.
Read about how Brown became a movie star after playing at Alabama, how Winslett went from Horseshoe Bend to All-American, how Sington played a role in luring Paul "Bear" Bryant to coach at Alabama, and how Boozer became a lifelong friend of Bryant. There is also insight on how Salls became the winningest coach in Jacksonville State University history, what Jordan is doing these days, and a touching story from Perkins. Sloan also reflects back on the 1960s, Croyle discusses his mission to rescue neglected children, and Krauss talks about his brush with death. Castille explains how Jesus Christ turned his life around, as does Teague, while McElroy looks back at how he got where he is today.
In addition to a great narrative, unique to this one-of-a-kind, 144-page book are the reproductions of each player's favorite piece of memorabilia. Replicas include a flyer from Brown's "Billy the Kid" movie, a letter from Gov. George Wallace to Salls, Jordan's treasured coin flipped by President John F. Kennedy before the Orange Bowl, Perkins' official scholarship offer signed by the legendary Bryant, and a McElroy bumper sticker.
In the book's foreword and afterword, respectively, former Crimson Tide defensive backs Charlie Peprah and Anthony Madison write about how Alabama prepared them to become Super Bowl champions in the National Football League. Every SEC fan will want to read about these outstanding men who built the great tradition that is Crimson Tide football!
Released today, The Bama Way: Profiles of Champions, produced by Whitman Publishing of Atlanta, measures 12 inches by 10 inches, comes with a collector's slipcase and is available for $29.95 in bookstores or online at http://www.WhitmanVaultBooks.com.
For more information on the Profiles of Champions series visit: http://www.profilesofchampionsbook.com. Interviews with Todd Bates and excerpts of the book are available upon request.
Contact:
Katharine Richardson
Richlyn Marketing
kate(at)richlynmarketing(dot)com
(615) 243-0619
###