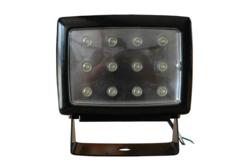 We are getting more customers seeking out LED replacements for standard 250 watt halogen wall packs and flood lights.
Kemp, Texas (PRWEB) October 12, 2011
The LEDWP-250 LED wall pack light from Larson Electronics' Magnalight is an extremely durable and reliable LED light fixture that offers high performance and reduced operational costs compared to traditional halogen fixtures over the life of the unit. Constructed of aluminum and powder coated for resistance to the elements, this LED fixture features a shatterproof polycarbonate lens with water tight seal, and a 1/2 inch water tight power connector fitting to provide complete waterproof protection in outdoor applications. Stainless steel mounting brackets and screws provide additional protection against rust and corrosion and ensure a solid installation that will last. This wall pack light contains twelve, high intensity, 3 watt LEDs, paired with an efficient reflector assembly, and produces illumination comparable to the 250 watt halogen fixtures it is designed to replace. This unit requires no warm up time, can be shut off and restarted without pause, and will provide over twice as many lamp hours without suffering erratic operation as it reaches the end of its useful operational life. The LEDWP-250 is also vapor proof, ( not HAZLOC approved ) providing added durability and protection against internal corrosion and the hazards posed by airborne contaminants such as chemical or water vapors. This unit can be operated with voltages ranging from 110 to 270 VAC, providing versatile power options for installation in commercial/industrial applications where 120 and 240 VAC current is commonly used, and is ETL approved for use in wet locations. The LEDWP-250 is adjustable through 380/180 degrees of rotation and is ideal for applications such as wall pack lighting, wall pack down lighting, upwards lighting, monument illumination, and security lighting systems where a highly durable and reliable lighting solution with powerful output is desired.
"We are getting more customers seeking out LED replacements for standard 250 Watt halogen wall packs and flood lights," said Rob Bresnahan with Larson Electronics' magnalight.com. "We developed the LEDWP-250 to meet that need. With integrated power supply and weatherproof design, this high powered LED flood light is a simple swap out for existing 250 Watt halogen wall packs. At 36 watts versus 250 watts, the energy savings and longevity are exceptional."
Larson Electronics' Magnalight.com carries an extensive inventory of LED work lights, LED blasting lights, LED spotlights and 12/24 volt LED lights. Visit Magnalight.com to view their entire inventory of LED lighting solutions or contact them for more information by calling 1-800-369-6671 or 1-214-616-6180 for international inquiries.
###