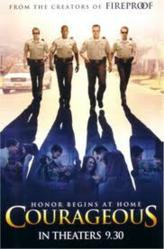 It was fun to have the actors, production, and film crews at the factory and share with them about Coats & Clark.
Albany, GA (PRWEB) October 12, 2011
Coats & Clark is proud to be a part of the film Courageous — produced by TriStar Pictures and Sherwood Pictures – that tackles the challenges surrounding fatherhood. Several scenes were filmed at Coats & Clark in Albany, GA, the largest yarn and crochet thread factory in the United States. Workers at the factory served as extras, and plant manager Bobby Boone appeared in the film. The film character Javier an employee at Coats & Clark is faced with an ethical challenge that puts him to the test. The mill offices and part of the manufacturing area is shown prominently in the film.
"It was fun to have the actors, production, and film crews at the factory and share with them about Coats & Clark." said Bobby Boone, Plant Manager at Coats & Clark. "This factory has been in Albany for over 60 years, and is honored to be a part of supporting our community."
Movie Synopsis: Four men, one calling: To serve and protect. As law enforcement officers, Adam Mitchell, Nathan Hayes, David Thomson, and Shane Fuller are confident and focused. Yet at the end of the day, they face a challenge that none of them are truly prepared to tackle: fatherhood.
While they consistently give their best on the job, good enough seems to be all they can muster as dads. But they're quickly discovering that their standard is missing the mark.
When tragedy hits home, these men are left wrestling with their hopes, their fears, their faith, and their fathering. Can a newfound urgency help these dads draw closer to God ... and to their children?
Filled with action-packed police drama, Courageous is the fourth film from Sherwood Pictures, the moviemaking ministry of Sherwood Baptist Church in Albany, Georgia. Riveted moviegoers will once again find themselves laughing, crying, and cheering as they are challenged and inspired by everyday heroes who long to be the kinds of dads that make a lifelong impact on their children.
About Coats & Clark
Coats & Clark, America's #1 name in yarn, sewing and needlecraft products, is part of the world's largest textile/thread manufacturing company with products sold in over 150 countries for industrial and home use.
For more information on Coats & Clark, please visit http://www.coatsandclark.com.
###