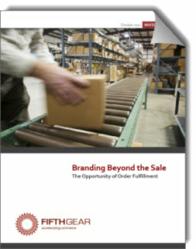 Incorporating branding initiatives into a retailer's operational areas extends the customer experience after the purchase until the order is delivered and opened.
Indianapolis, IN (PRWEB) October 13, 2011
Fifth Gear, a leading provider of order fulfillment, contact centers, ecommerce technology, and marketing services, has released a white paper outlining the importance of branding initiatives in direct-to-consumer retail operations. Branding Beyond the Sale: The Opportunity of Order Fulfillment provides retailers with innovative strategies for building customer loyalty and strengthening their brand promises during the order fulfillment process.
"The fulfillment process offers numerous opportunities for retailers to keep their brand in front of the customer long after the sale is completed," says Steve Warren, Fifth Gear's vice president of business development. "The consumer becomes a captive audience that is eager to receive their package and, indirectly, interact with the brand. Incorporating branding initiatives into a retailer's operational areas, such as the warehouse and contact centers, extends the customer experience until the order is delivered and opened – which in turn can increase future sales."
The paper, which also features industry-specific insights from experienced Fifth Gear executives, offers ecommerce and catalog retailers proven tips for increasing customer satisfaction, influencing repeat purchases, and developing long-term brand loyalty. Topics discussed in the white paper include:

Custom packaging strategies
"Green" branding initiatives
Package insert programs
Post-sale marketing tactics
To download the white paper for free, visit http://www.infifthgear.com/pr_wp.
About Fifth Gear
Fifth Gear (http://www.inFifthGear.com) provides outsourced order fulfillment, contact center services, ecommerce technology and marketing services to specialty retailers and manufacturers of consumer products. The Company serves as a single source partner to its clients, providing access to the industry expertise, infrastructure and technology they require to drive revenue growth. Fifth Gear is privately-held and headquartered in Indianapolis, IN. The Company serves over 100 ecommerce and catalog retailers today and continues to expand its portfolio of unique offerings for its multichannel retail clients.
###