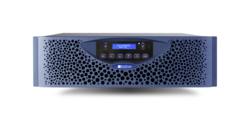 "Broadcasters shouldn't have to accept any compromise when deploying an integrated playout system."
--Pete Challinger, CEO of Pixel Power
Jacob Javits Center, Booth 1137) (PRWEB) October 11, 2011
Burbank, CA and New York, NY (CCW @ Pixel Power, the leading supplier of broadcast graphics systems, will offer the East Coast premier of its new ChannelMaster integrated playout systems at the Content & Communications World (CCW)/HD World conference, Oct 12-13, in Booth 1137 at the Jacob Javits Center in New York. ChannelMaster incorporates all the functionality to deliver a channel to air without compromise.
ChannelMaster is a fully integrated playout solution that frees broadcasters from the limitations so often associated with "channel in a box" solutions. Unique among integrated playout solutions, ChannelMaster offers:

Market-leading graphics engine: ChannelMaster includes dedicated processing for the full range of sophisticated graphics including real time 3D, multichannel clips with alpha and unlimited layers. A single ChannelMaster unit can be configured as one complex channel with preview or two simpler channels.
No automation lock-in: ChannelMaster can integrate with any automation and MAM system by way of an open XML protocol or legacy industry standard protocols. Alternatively ChannelMaster can be controlled by Pixel Power's new Gallium scheduling, asset management and automation solution.
Live content playout: Benefiting from a built-in master control switcher and two video inputs, ChannelMaster is an excellent proposition for the transmission of live events. Many existing integrated systems are limited to only one video input or lack a master control hardware panel with which a master control operator would be familiar. ChannelMaster can also control the upstream router – allowing virtually unlimited video inputs. It's also capable of live transitions between sources with preview – vital in a live environment as any broadcaster knows.
The introduction of a complete graphics solution into a channel-in-a-box system means that broadcasters can use a fully integrated system - video server, graphics engine, branding, audio voiceover, subtitling and master control switcher – to provide the high-level graphics essential in today's competitive channel market. This also provides cost-effective configurations for redundancy as a broadcaster could use the second channel as a redundant crossover back-up.
For subtitling, Pixel Power is partnering with leading technology suppliers, integrating their software within ChannelMaster in order to provide the quality and flexibility demanded by broadcasters. This also allows ChannelMaster to be easily integrated with existing subtitling workflows where already installed.
"Broadcasters shouldn't have to accept any compromise when deploying an integrated playout system," said Pixel Power CEO Pete Challinger. "ChannelMaster offers broadcasters a fresh perspective by not only offering sophisticated playout, but also the graphics horsepower, live production support and automation flexibility needed by today's most dynamic, compelling channels."
For more information about Pixel Power systems visit http://www.pixelpower.com.
About Pixel Power
Pixel Power provides innovative graphics production and delivery systems for broadcasters, OB truck companies, playout facilities, post-production houses, venues and sports complexes. Our award-winning branding and promotions systems, graphics-enabled master control switchers, and sophisticated HD/SD switchable graphics production systems allow producers to deliver dynamic live and pre-recorded content for any SD, HD, 3D stereoscopic, mobile, online or interactive application.
For more than 20 years Pixel Power's engineering prowess and dedication to customer support have made it the industry's first choice. Our customer base of over 2000 systems includes market leaders like ABC, Astral, CBC, Disney, Discovery, ESPN, HBO, MTV, CNBC and Technicolor.
Headquartered in Cambridge, England, Pixel Power has a subsidiary located in Burbank, California and a Middle East office in Dubai, as well as a global network of carefully selected and trained distributors to support any requirement.
###