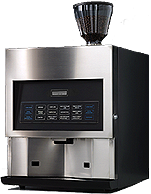 Americans are increasingly seeking "Made in the USA" on the products they buy.
Los Angeles, CA (PRWEB) October 15, 2011
Made in the USA is a concept that's increasingly becoming more rare, until now! All Pro Beverage is an office coffee service company located in Los Angeles, CA, that is actively supporting American patriotism by "Going USA!"
All Pro Beverage is well known for offering a wide variety of coffee machines, beverage dispensers and bag-in-box concentrates and has now begun production of the Aroma 5500 super automatic coffee machines from their Los Angeles manufacturing plant.
"Americans are increasingly seeking Made in the USA on the products they buy", says Ed Hill, CEO of All Pro Beverage. "I personally want to buy products made in the USA and decided to do my part in supporting the United States economy by creating American jobs and selling to American taxpaying companies. Maybe it takes such tough economic times for some of us to realize what amazing opportunities we have right here in our own country. We started manufacturing in Italy over a decade ago, but now we are proud Americans supporting the great United States of America!"
Now along with maintaining its high-quality product reputation, All Pro Beverage plans to keep everything under one roof: production, sales, service and parts for the world's best super automatic espresso machines, the Aroma 5500.
All Pro Beverage is the foremost distributor in North America for the truly eco-friendly fully automatic espresso machines, branded as Espresso Etc! These unique push-button gourmet coffee machines grind the beans fresh, and dispense one cup at a time, delicious flavors that include French Vanilla, Cappuccino, Hot Chocolate and Chai Latte. Then, at another push of a button, the coffee machine cleans itself - so simple, anyone can become a barista within minutes!
As a leading supplier of office coffee services, All Pro Beverage is recognized for its bag-in-box packaging, push button espresso machines, healthy juice dispensers, water purifiers, and socially responsible business practices.
All Pro Beverage's operations are managed through three distribution units: All Pro Beverage distributes high-tech office water coolers purification systems that are designed especially to meet your company's water purification needs for all office coffee services. Espresso Etc Specialty Coffee services the Office Coffee industry by distributing super automatic espresso machines, fresh roasted coffee and gourmet beverage products. Fructomat USA Healthy Beverages produces custom formulated juice, and vending machines. For more information, visit http://www.allprobeverage.com, http://www.espresso-etc.com, http://www.fructomatusa.com, and http://www.officebottledwatercoolers.com.
Find us on Facebook!
###