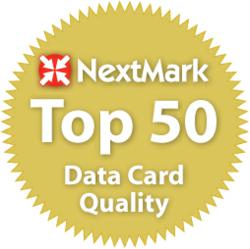 "We work hard to keep all our Data Cards up-to-date and relevant."
Evanston, Illinois (PRWEB) October 11, 2011
ConsumerBase is a Chicago-based multi-channel mailing list company with regional offices across the U.S.. ConsumerBase offers integrated marketing solutions through behavior-enhanced consumer data. Publishing data cards gives ConsumerBase the opportunity to compete for inclusion in direct marketing campaigns.
Data cards are an industry-wide standard for providing information on mailing lists. They provide frequently updated, real-time information on the number of records in a list, costs and fees associated with renting a list and other important information for direct marketers.
"ConsumerBase lists over 1,200 postal, email and telephone lists on NextMark and we are working to grow that number as well as improve the quality and information in our current listings," says Larry Organ, CEO of ConsumerBase. "We work hard to keep all our Data Cards up-to-date and relevant."
NextMark, a media solutions provider, houses thousands of data cards in a Direct Marketing List Finder tool on their website. Their data card quality score is calculated by electronically analyzing over 74,000 data cards in their list database.
View NextMark's full Data Card Quality Report
Contact:
Zora Senat, Media Director
ConsumerBase LLC
ZSenat(at)ConsumerBase(dot)com
Telephone: (847) 556-4551
http://www.ConsumerBase.com
###