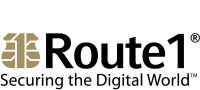 we must address the issues of how an employee or contractor is authenticated before they are allowed into the network, and once authenticated, the enforcement of individualized data entitlements.
Toronto, Canada (PRWEB) October 11, 2011
Route1 (http://www.Route1.com), a security and identity management company whose customers include the U.S. Navy, the Department of Homeland Security, the Department of Energy, the Department of the Interior, and the Federal Courts, today lauded President Obama's executive order for stricter data security measures to be applied by government agencies. The White House Mandate defines specific rules that will protect data in order to prevent further breaches, in addition to detailing the creation of committees that will oversee the entire effort.
Tony Busseri, CEO of Route1, noted that, "With this most recent directive, the White House has reinforced its commitment to establishing, implementing and enforcing long overdue protocols to protect sensitive information and to prevent data from being leaked or accessed by unauthorized users. However, it is important to note that even with this mandate, there is still inadequate attention given to user entitlements and authentication, and a glaring lack of compliance to HSPD-12."
Shortly following the Wiki-Leaks breach, the U.S. government ordered agencies to restrict the use of "removable media" such as CDs and USB flash drives on classified systems. Specifically, the orders reinforced the rules that employees could not download private data to removable hard drives, required agencies to track what government employees are doing when accessing sensitive information, and defined how information should be encrypted and secured.
Mr. Busseri continued, "We wholeheartedly endorse the principle of keeping data within the 'fortress', as once it exits the network confines or firewalls, there is no control over who has or is using that information. As an industry, we must address the issues of how an employee or contractor is authenticated before they are allowed into the network, and once authenticated, the enforcement of individualized data entitlements.
"With the widespread adoption of cloud computing and remote access for teleworkers, true multifactor authentication, coupled with stricter, enforceable policies regarding data management as detailed in HSPD-12, are critical first steps."
ABOUT ROUTE1, INC.
Route1 delivers industry-leading security and identity management solutions to enterprises worldwide, such as businesses, government and military, which need universal, secure access to all digital resources and sensitive data. These customers depend on The Power of MobiNET - Route1's communications and service delivery platform. MobiNET provides identity assurance and individualized access to networks and data. Route1's patented solutions are based on FIPS 140-2 cryptographic modules, and simplify the process of meeting increasingly stringent regulatory requirements for privacy and security. Headquartered in Toronto, Canada, Route1 is listed on the TSX Venture Exchange.
For more information, visit our website at: http://www.route1.com.
This news release, required by applicable Canadian laws, and does not constitute an offer to sell or a solicitation of an offer to buy any of the securities in the United States. The securities have not been and will not be registered under the United States Securities Act of 1933, as amended (the "U.S. Securities Act") or any state securities laws and may not be offered or sold within the United States or to U.S. Persons unless registered under the U.S. Securities Act and applicable state securities laws or an exemption from such registration is available.
Neither the TSX Venture Exchange nor its Regulation Services Provider (as that term is defined in the policies of the TSX Venture Exchange) accepts responsibility for the adequacy or accuracy of this release.
© Route1 Inc., 2011. All rights reserved. Route1, the Route1 and shield design Logo, SECURING THE DIGITAL WORLD, Mobi, MobiSecure, Route1 MobiKEY, Route1 MobiVDI, MobiKEY, MobiKEY IBAD, DEFIMNET, MobiNET, Route1 MobiNET, TruOFFICE, TruFLASH, TruOFFICE VDI, MobiKEY Fusion, EnterpriseLIVE, EnterpriseLIVE VO, MobiNET Agent and MobiKEY Classic, are either registered trademarks or trademarks of Route1 Inc. in the United States and or Canada. All other trademarks and trade names are the property of their respective owners. The DEFIMNET and MobiNET platforms and the MobiKEY, MobiKEY Classic and MobiKEY Fusion devices are protected by U.S. Patents 7,814,216 and 7,739,726, and other patents pending.
# # #