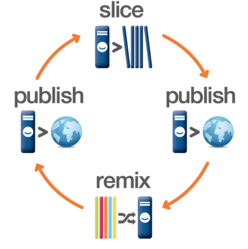 The Slicebooks platform enables publishers to easily slice, remix and publish short content quickly and economically, with full control over metadata.
Broomfield, CO (PRWEB) October 12, 2011
The Internet has been a blessing and a curse to book publishers. While providing a forum for selling eBooks, it competes for customer attention and cannibalizes publisher sales with random short content of dubious quality. It has also taught customers to expect choice, flexibility and instant access to content whenever it is desired. Slicebooks, a new short content publishing platform developed by eBookPie, enables publishers to affordably leverage their existing catalogues to quickly produce premium short content that can win back customers – and sales revenues – lost to the internet.
Slice and remix short content with Slicebooks
Using the Slicebooks web interface, publishers can quickly chunk and remix front and backlist titles into marketable packages. It is easy to slice one book, a few, or even thousands in batches. eChapter slices and custom remixes can be published automatically on eBookPie, distributed to leading retailers, or downloaded to the publisher's own sales channels.
Publisher Dashboard gives publishers full control over metadata
With the powerful Publisher Dashboard publishers have detailed control over book metadata, and can assign ISBNs. Metadata can be exported in either ONIX or .csv formats, making distribution easy. Individual chapters can be priced and sold individually online, remixed into custom collections, or used to cross-market the entire catalog.
Why short content?
Here are just a few of the many examples of how readers now commonly use customized short content:

Professors and trainers mix and match class manuals that fit their unique curricula.
Travelers create custom guide books.
Health and business professionals slice time-sensitive content to suit their particular research and training needs.
Computer programmers need help with just one string of code, or a quick tutorial slice buried in a larger manual
"Like with music, readers often only want a slice of content and will scour the search engines to find it," said Slicebooks' CEO Jill Tomich. "By creating an abundance of affordable, easy to find and professionally-produced short content -- all from their existing catalogs -- publishers can regain lost sales, rejuvenate their backlist, cross-promote their entire catalog and give their customers the choice and flexibility the Internet has taught them to expect.
"With our Slice and Remix tools, everyone wins. Consumers win because they can purchase just the content they need while being reassured that it has endured the editorial scrutiny that has defined publishing for centuries. Authors win because they get paid royalties every time someone buys a new slice of their books. And publishers win because they finally are able to sell their content in the ways that consumers increasingly wish to buy it, but with none of the technological headaches that used to accompany content sales."
Publishers can see Slicebooks in action in Hall 4.0, Space A1311 at the Frankfurt Book Fair, October 12 – 16, 2011. And, they can contact Jill Tomich at jill(at)ebookpie(dot)com to arrange for an online demo.
About eBookPie
eBookPie develops digital marketplace platforms that enable publishers to compete in a fast changing field. With Slicebooks, eBookPie aims to solve one of the primary problems plaguing book publishing, which is the diminishing in their revenue potential per title. The eBookPie development team is led by veterans from such leading technology publishing companies as O'Reilly Media, Pearson, and Manning.
###