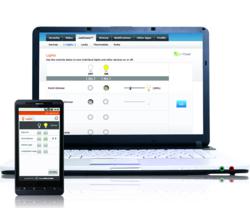 Vienna, VA (PRWEB) October 12, 2011
A home is burglarized every 15 seconds, according to the FBI. October is Crime Prevention month, an opportune time to adopt better practices for property awareness by utilizing an interactive home security system. Alarm.com recommends that families get together during the month to discuss how they can keep their home safe and stay more aware of activity in and around the home.
A home is a place of shelter and comfort, but if an intrusion or robbery occurs, it can create feelings of panic and danger. In order to maintain a home that's safe and sound, Alarm.com offers four ways for families to stay aware of what's going on at the property, even from afar:
1. Review – Take a walk around your home today with the family. Identify weak spots such as windows that are commonly left open or doors that are rarely locked. Invest in window sensors and interactive door locks to protect such vulnerabilities. Also, think about what a home security system can do to make securing the home easier for you and the family. For example, home automation solutions let people arm the security system, turn off all the lights, cool down the thermostat and lock all the doors in just one touch on a smartphone - using a free home security mobile app.
2. Educate – Inform the family of the helpful capabilities an interactive home security system can provide. Make sure each family member knows how to arm and disarm the system. They can do so even if they're away from the home, from a laptop or mobile device. Plus, unique user codes let homeowners know who accessed the home, through what door they entered and when they arrived. Video clips of this activity can be automatically sent via email or text message.
3. Interact – User-friendly web interfaces and security mobile apps let family members make security part of a daily routine. If families set up motion sensors around the home, they can hone in on suspicious activities. Think about what areas are of greatest concern. A suggestion: put sensors in stairwells, hallways, basements, and also front and back doors; have the lights turn on whenever motion is detected in those areas when the family is asleep.
4. Check In – Another way of staying aware of activity is to regularly inspect a detailed security log of both alarm and non-alarm events that take place during the day. These logs can be accessed from a computer or smartphone and help inform families of what happened when they were away from home. Find out how long the cleaning crew was working or when the contractor arrived. Look and see if anything seems out of the ordinary. This log can assure families that their home is truly protected.
Home security systems can do more than just secure a home. Through regular usage and education of family members, home alarm systems can prevent crime and keep families aware of both unusual and everyday activity. Stay secure and stay connected by regularly interacting with your security system and having each family member do the same.
About Alarm.com
Alarm.com, founded in 2000, is the industry leading technology provider of interactive security solutions. Through advanced wireless monitoring, mobile and web-based services, and a proven hosted services platform, Alarm.com helps protect hundreds of thousands of residential and commercial customers throughout the United States and Canada. Alarm.com's products and services are offered exclusively through a network of over 2,500 licensed and authorized Security Dealers. Alarm.com's headquarters is located in Vienna, VA. For more information, visit http://www.alarm.com.
###