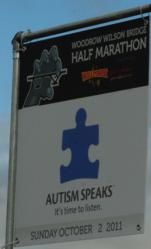 The fundraising dollars raised by Team TMA Resources help us keep and run our many strong programs that help the families affected by autism.
Vienna, VA (PRWEB) October 14, 2011
For the second year in a row, TMA Resources put together a team to raise money for Autism Speaks in conjunction with the Woodrow Wilson Bridge Half Marathon. The group of TMA Resources' staff, partners, customers and friends raised more than $28,000.00 for the nation's largest autism science and advocacy organization.
According to Autism Speaks, autism is the fastest-growing serious developmental disability in the US. However, autism receives less than 5% of the research funding of many less prevalent childhood diseases. The fundraising effort began in 2010 when employees of TMA Resources, a Vienna-based association management software company, reached out to Autism Speaks to see how they could help.
Ann Gibbons, Executive Director of Autism Speaks, National Capital Area explains, "What started out as a simple conversation on how concerned employees could volunteer led to a major financial contribution to Autism Speaks. Through only two fundraisers TMA Resources has raised more than $54,000.00 and that's no small feat."
Donations to Autism Speaks help the non-profit to:
*fund research into the causes, prevention, treatments and a cure for autism
*increase awareness of autism spectrum disorders, and
*advocate for the needs of individuals with autism and their families.
Gibbons continues, "The fundraising dollars raised by Team TMA Resources help us keep and run our many strong programs that help the families affected by autism. The heart and soul they put into this effort is unbelievable and that passion helps us keep up our fight to solve the mystery of autism."
Members of Team TMA Resources who did not run the half marathon hosted a water station located at mile 8 of the 13.1 mile race. Volunteers both supplied water and cheered for the runners. The team also held hand made signs that were designed to motivate runners.
Edi Dor, CEO & President of TMA Resources couldn't contain his smile when discussing how much Team TMA Resources raised. "I was touched to see so many people in our office and community supporting this effort. Everyone involved spent an incredible amount of their personal time training for the 13.1 mile race and/or raising money for an amazing non-profit that does so much for so many."
Dor who has a personal connection to autism explains, "As the father of an autistic child, I understand the great challenges facing the families of such special children. Sadly, many of these families struggle with survival from a psychological, financial, emotional and relational aspect. I'm proud that we are able to help Autism Speaks change the future for all who struggle with this disease."
Watch the video of Team TMA Resources. More information about autism and Autism Speaks can be found on their Web site at http://www.autismspeaks.org.
TMA Resources, Inc: Headquartered in Vienna, Va., TMA Resources, Inc. and its team of highly skilled professionals produce member relationship software solutions. Clients include many of the most prestigious professional societies, trade associations, labor unions, and other member-centric organizations in the United States and overseas. TMA Resources was named #288 on the 2010 Software 500 listing and is listed as one of the largest technology employers in the Washington, D.C. metropolitan area by the Washington Business Journal. For more information about the company, visit http://www.tmaresources.com.
###