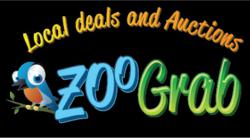 Sacramento, California (PRWEB) October 13, 2011
ZooGrab.com offers the most exciting shopping platform on the internet by offering various retail products and services at incredibly low "Buy Now" prices. It offers the incredibly popular Daily Deal, which ZooGrab calls "Today's Grab," as well as a robust retailer Reverse Auction platform called "Auction Grabs". These platforms allow consumers to purchase expensive goods and services at much lower prices. ZooGrab.com is the best way to save money when many sellers are offering similar products and services.
The Reverse Auction is an effective tool in which a retailer lists a desired product or service starting at full retail price. In a Reverse Auction, prospective buyers "Buy Down" the current retail price by spending a credit to reveal the price.
ZooGrab.com is simple to operate. The consumer will click the reveal price button and will be shown the reduced price for one minute. A "Buy Now" button will be displayed. At the moment the current price is revealed, the buyer has a one minute window to execute the "Buy Now" feature and close the current auction at the price revealed. Buyers have to follow sellers' specifications on a particular auction item or product they want to purchase.
The first person who completes the "Buy Now" function will be declared the winner and may buy the auction item at the revealed price.
About ZooGrab.com
ZooGrab.com is an online marketplace providing members the best discounts on local retailers in their area. ZooGrab.com offers online reverse auctions for buyers to reduce purchasing costs of the desired items, while maintaining the ever so popular Daily Deals known at ZooGrab as "Today's Grabs." With two ways to save, ZooGrab is the only stop needed for online savings. ZooGrab also allows members the opportunity to win free credits which make saving exciting and fun. Our main aim is to provide a safe and user friendly shopping experience, with superior quality deals. Join today!
If you have any further queries, feel free to email us at – Info(at)ZooGrab(dot)com.
To learn more about ZooGrab.com shopping platforms, please visit:
https://www.zoograb.com/grab/todaysgrab
https://www.zoograb.com/bizdirectory
https://www.zoograb.com/howitworks
# # #