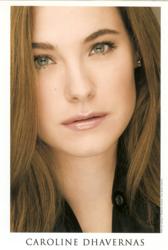 Baltimore, MD (PRWEB) October 13, 2011
The Baltimore Symphony Orchestra (BSO) and BSO Music Director Marin Alsop today announced that French-Canadian actress Caroline Dhavernas and Belgian actor Ronald Guttman will be featured in the lead spoken roles of Honegger's 1935 semi-staged oratorio Jeanne d'Arc au Bûcher ("Joan of Arc at the Stake"). Dhavernas will perform the lead role of Joan of Arc opposite Ronald Guttman in the role of Brother Dominic. At home on both stage and screen, Caroline Dhavernas made her debut in American television in 2004 with the FOX series Wonderfalls and later starred in The Pacific, a World War II mini-series on HBO. In 2011, Dhavernas appeared in the ABC series Off the Map. Ronald Guttman is most well known for his role in the film The Hunt for Red October (1990) alongside Sean Connery and Alec Baldwin. Other film appearances by Guttman include the Green Card (1990), The Believer (2001) and August Rush (2007).
This performance will commemorate the 600th anniversary of French heroine Joan of Arc's birth. This epic work features an array of guest artists, including sopranos Tamara Wilson and Hae Ji Chang, mezzo-soprano Kelley O'Connor, tenor Timothy Fallon and bass Morris Robinson as well as Cynthia Millar on the ondes Martenot*. Grammy Award-winning director James Robinson will provide stage direction. Alsop and the BSO will combine forces with the Concert Artists of Baltimore Vocalists, Peabody Hopkins Chorus, Morgan State University Choir and Peabody Children's Chorus for concerts on Thursday, November 17 at 8 p.m. and Friday, November 18 at 8 p.m. at the Joseph Meyerhoff Symphony Hall. The program will also be performed at New York City's prestigious Carnegie Hall on November 19 at 8 p.m. This program will be performed in French with English surtitles. Please see below for complete program details.

The ondes Martenot is a unique and seldom-heard French instrument, which was invented by Maurice Martenot in 1928. This unusual electronic instrument has an eerie vocal quality much like a theremin and specializes in grand swooping glissandos.
Caroline Dhavernas, actress (Joan of Arc)
Actress Caroline Dhavernas commands the attention of filmgoers and television viewers with her beauty, talent and poise. The recipient of two Genie Award nominations, the Montréal native is already an acclaimed young actress who has also made her mark in Hollywood.
Last year, Dhavernas starred in ABC's television series, Off the Map, a medical drama, by executive producer Shonda Rhimes (Grey's Anatomy, Private Practice). In the fall of 2010, Dhavernas appeared in the Universal Pictures supernatural thriller, Devil, a feature film produced by M. Night Shyamalan.
Recently, Dhavernas appeared in Mandate Pictures' romantic comedy film, The Switch with Jennifer Aniston and Jason Bateman. The film was released in August 2010. She also starred as Vera Keller in The Pacific, an epic 10-part miniseries event that debuted on HBO in March 2010. The program received an astounding eight Emmy Awards this year, including Outstanding Miniseries.
In 2008, Dhavernas starred in the widely acclaimed Canadian feature Passchendaele, which won the 2009 Genie Award for Best Motion Picture. In 2007, Dhavernas appeared in the film, Breach, with Chris Cooper and Ryan Phillippe. The film, directed by Billy Ray (Shattered Glass) was released by Universal Pictures. In 2006, Dhavernas starred as Kit Holliday in the Focus Feature film, Hollywoodland, opposite Adrien Brody.
Additional film credits include Lost and Delirious, Out Cold, The Baroness and the Pig (starring opposite Patricia Clarkson), Edge of Madness, Surviving My Mother, These Girls, Niagara Motel and La Belle Bête. Additionally, Dhavernas co-starred in English director Peter Greenaway's Tulse Luper Suitcases which was presented at the Cannes Film Festival in 2003.
Dhavernas made her American television debut in 2004 in the critically acclaimed FOX series, Wonderfalls. In the family dramedy, Dhavernas played the lead character, Jaye, who lived in a trailer, worked at a Niagara Falls gift shop and had a special gift that allowed her to hear non-living objects encouraging her to help different individuals in the community. Dhavernas speaks fluent French and also did her own French voice-over translations for the show.
Dhavernas currently divides her time between Montréal and New York City.
Caroline Dhavernas is pronounced CAR-o-lyn Da-VER-na.
Ronald Guttman, actor (Brother Dominic)
Ronald Guttman is an actor and producer who has experience in the film-making process both in front of and behind the camera. Ronald most recently starred in the HBO television series, Mildred Pierce, directed by Todd Haynes, and in the movie 13, directed by Gela Babuiani.
In 2009, Guttman appeared in Tickling Leo, directed by Jeremy Davidson. In 2008, he appeared in 27 Dresses, directed by Anne Fletcher and August Rush, directed by Kirsten Sheridan.
Additional film credits include: The Funeral Party, Blue Blood, Munich, Mentor, Mrs. Harris, The Tollbooth, Delirious, The Pillowbook, The Guru, The Believer, The Girl, Rectro Verso, Just the Ticket, Suits, Comfortably Numb, Alchemy, Lion Des Barbares, Josh and S.A.M., Green Card, Avalon, The Hunt for Red October, Her Alibi, Little Nikita, Deux, The Squeeze, Danton and Hanna K.
Guttman has also appeared as a guest in many television series, specials and mini-series including: Lipstick Jungle, Heroes, Side Order of Life, Six Degrees, Lost, The West Wing, Law & Order (SVU & CI), Third Watch, Sex and the City, Starved, Star Trek-Voyager, Murder, She Wrote, Civil Wars, Wings, Beverly Hills, 90210, All My Children, The Life of Benjamin Franklin, Liberty-American Revolution, The Beast, Blue Heaven, Midnight Flight, Seventh Avenue, Presumed Guilty, And The Band Played On, Notorious, Iran: 444 Days of Crisis and Steal the Sky.
His theatre appearances include: The Fifth Column, The Lonely Way, Rough for Theatre 1, Race, No Exit, Funky Crazy Boogaloo Boy, The Philanthropist, The Free Zone, Modigliani, Costal Disturbances, Oedipus, Liliom and Escurial.
Ronald Guttman is the founder and president of H!GHBROW, a company that provides resources and encouragement to film and theatre production during the critical stages of development from concept to completion. Guttman received his education and training from the Lee Strasberg Theatre Institute at the Conservatory of Dramatic Arts in Brussels.
Editor Note: Please visit http://www.bsomusic.org/main.taf?p=5,12 for the full press release with biographies for all guest artists and additional photos.
COMPLETE PROGRAM DETAILS
BSO Classical Concert: Joan of Arc at the Stake
Thursday, November 17, 2011 at 8 p.m. – Joseph Meyerhoff Symphony Hall (JMSH)
Friday, November 18, 2011 at 8 p.m. – JMSH
Saturday, November 19, 2011 at 8 p.m.—Carnegie Hall, 881 Seventh Avenue, New York, NY
Marin Alsop, conductor
James Robinson, stage director
Caroline Dhavernas, actress (Joan of Arc)
Ronald Guttman, actor (Brother Dominic)
Tamara Wilson, soprano (Soprano Solo; The Virgin)
Hae Ji Chang, soprano (Marguerite)
Kelley O'Connor, mezzo-soprano (Catherine)
Timothy Fallon, tenor (Tenor Solo; Porcus; Herald I; The Clerk)
Morris Robinson, bass (Bass Solo; Herald II)
Cynthia Millar, ondes Martenot
Concert Artists of Baltimore Vocalists
Ed Polochick, Director
Peabody Hopkins Chorus
Ed Polochick, Director
Morgan State University Choir
Eric Conway, Director
Peabody Children's Chorus
Doreen Falby, Director
Arthur Honegger: Jeanne d'Arc au Bûcher
Tickets range from $28 to $61 and are available through the BSO Ticket Office, 410.783.8000 or BSOmusic.org.
Tickets for the concerts at Carnegie Hall range from $15.50 to $91 and are available at carnegiehall.org.
# # #