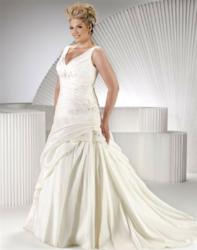 According to House of Brides President, Eva Buziecki, "Nearly fifty percent of our brides wear size 12 or larger now."
Glen Ellyn, IL (PRWEB) October 18, 2011
House of Brides introduces the Diva Bridal Boutique opened July 2011 and is the first store in the country committed to real size women. The boutique has a full selection of wedding dress samples in sizes 18 – 40 and "W" sizes only. Brides can try-on samples in their sizes from leading designer collections and in the latest styles. Wedding gowns are available for special order and immediate delivery.
House of Brides analyzed the shopping practices of women and concluded that this target group tended to put off shopping for several reasons: to give themselves more time to lose weight, they're afraid they won't find anything in their size, they don't know where to go to find their size and they are turned off to the dress-shopping experience altogether. In response, the company created the boutique to address the specific issues of selection and service.
Generally, bridal retailers have plus size samples available but selection is limited. Designers send dress samples in industry average sizes of 8, 10 and 12, which do not necessarily reflect today's real bride. According to the company President, Eva Buziecki, "Nearly fifty percent of our brides wear size 12 or larger now." Some designers recognize this trend and have included plus size divisions. Such lines include Signature Plus by Private Label by G, Unforgettable by Bonny and Julietta by Mori Lee. These collections are made exclusively in Women's sizes and in complimentary styles for a curvy figure.
Diva Bridal carries designer plus size lines and additional designer dresses in larger sizes only. The buyers pay special attention to designs that work best for a larger bust, waist and hip to compliment plus size silhouettes.
Additionally, having to try on a bridal gown sample that doesn't fit is problematic. Plus size brides unable to try-on average size samples and sharing dressing room and stage space with smaller sized brides have been an ongoing issue at bridal retailers. Industry Consultant Dale Buziecki said, "The "average" sample dress will not give plus size brides an accurate idea of how a dress will fit. It's embarrassing for a bride when they have to share the same space with other brides that fit the sample sizes."
All of these obstacles were a driving force for the company to open Diva Bridal. The Diva Boutique offers wedding dress sizes, stage areas and the entire showroom tailored for plus size women. These brides can shop among other customers who face the same issues. Consultants in the boutique are trained to know what will work for the voluptuous body and can lend their specialized expertise. The end result is the ultimate shopping experience.
The Diva Bridal Boutique is an exclusive store specializing in dressing brides, sizes 18 – 40. House of Brides continuously analyzes their information to better assist their customers and to reach out to new customers. The boutique is another example of House of Brides continuing to grow its brand and customer base.
Diva Bridal is located at 1184 Roosevelt Road in Glen Ellyn, Illinois, 1 door west of House of Brides. For store Locations & Hours, visit http://www.houseofbrides.com/TourOurStores.
Diva Bridal is a division of House of Brides.
About House of Brides:
House of Brides established its first brick-and-mortar store in 1929 and has since grown to 10 Chicagoland stores and global E-Commerce website, http://www.houseofbrides.com. Millions of Brides and their wedding parties visit our salons and global website for over 30,000 wedding and special event products.
###