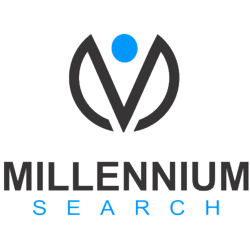 Having an engineering and sales background on your resume is ideal for clients in today's market. —Suzanne Alberti, Millennium Search
Chatlotte, NC (PRWEB) October 12, 2011
In the past few weeks, the high-tech sector has earned a lot of recognition. Charlotte based boutique executive search firm Millennium Search has taken notice of this fact and capitalized on working more closely with companies expanding in this industry, ranging from start-ups to Fortune 500 companies.
Within the past quarter, Millennium Search has placed people in multiple high level roles within growing companies that are backed by top-tier venture capitalists. Sandy Bleich, a senior partner at Millennium Search, has placed multiple high level positions such as VP of Marketing and Senior Vice President of Account Management at cutting-edge companies based in Boston, Los Angeles, New York City and San Francisco.
"It is a great opportunity for those who are looking to make a change. However, it is a very competitive market," Bleich said. "On the client side, we are seeing a lot of competing offers and companies need to be agile and willing to move quickly."
With the increase in demand for newer, faster, better technology in a market that wants something new just about every day, companies are springing up all across the world in order to fulfill the public's desire. With the market shifting to technology, it has had an effect on job requirements and desired skills for those positions that are open. Cloud computing, software as a service (SaaS), mobile computing and social media platforms startups primarily rely on younger workers in their 20's to build their companies in major metro regions such as the San Francisco bay area, New York City and Boston. In addition, the traditional corporate structure is shifting due to technological breakthroughs in the job market.
Suzanne Alberti, a Senior Executive Recruiter for Millennium Search, noted that due to the market shift, she is now searching for candidates whose talents span multiple areas of expertise such as engineering and sales.
"A candidate who can talk like an engineer and present well to help close the deal is a bit of a tougher find; you really have to think outside the box," Alberti said. "It seems as though more and more engineers are learning and training to take on the dual roles. Having an engineering and sales background on your resume is ideal for clients in today's market."
With the increase in technology jobs, Millennium Search has seen rapid growth, doubling in size over the past year. The search firm has over 100 openings it is looking to fill in sales, marketing and technical roles with both newer and established technology companies.
"We have retained clients and have a 100% success rate with each one of them," Amish Shah, CEO of Millennium Search, said. "Our team is made up of experienced people who were around for the dot com boom era. This is another boom in social media and Web 2.0 application development, and we are on the cutting-edge ourselves in terms of search firms out there."
About Millennium Search
Millennium Search is a boutique executive search firm focused on placing top tier talent in early-stage, mid-stage and Fortune 500 technology companies globally. Millennium Search is a search firm called upon by many top Venture Capitalists globally. Millennium Search's headquarters are in Charlotte, NC, with additional offices in the San Francisco, CA, Boston, MA, NJ, Long Island, NY, Midtown Manhattan, NY, Charleston, SC and Palm Beach Gardens, FL.
###