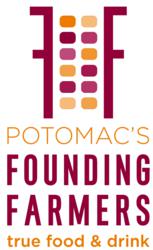 We look forward to providing Maryland residents with true food and drink that reflect our ongoing commitment to the American family farmer.
Washington, DC (PRWEB) October 12, 2011
The Farmers Restaurant Group (FRG), the team behind the success of award-winning Founding Farmers, Washington's greenest restaurant, and one of the most popular dining destinations in the country, announces November 8, 2011, as the opening date for the new Potomac's Founding Farmers. Situated in the Park Potomac development in Potomac, Md., the new restaurant is owned, operated, and managed by the Farmers Restaurant Group, which includes local investors, the North Dakota Farmers Union, and several other farmer-centric organizations, all of whom have a passion for supporting sustainable agriculture and sustainable business practices.
"Since we opened Founding Farmers D.C. in September 2008, we always knew we wanted to extend our brand and create new, regionally inspired locations for the restaurant," said Dan Simons, Montgomery County resident, co-owner and concept developer of the new restaurant, and managing partner of Founding Farmers D.C. "The Park Potomac development is a well-suited spot for our concept, with menu items and an atmosphere created especially for the neighborhood. We look forward to providing Maryland residents with true food and drink that reflect our ongoing commitment to the American family farmer."
THE MENU
Potomac's Founding Farmers will offer classic, heartland-inspired dishes and a RAMMY Award–winning mixology program, with service for breakfast, lunch, dinner, and weekend brunch. With a menu that expands on the D.C. restaurant's offerings developed by the FRG culinary team, including Corporate Chef Joe Goetze and Executive Chef Rob Ross, each category will feature new options, including a special section devoted to chicken dishes, more roasted meats and vegetables from a custom-designed rotating grill/oven, new breads and house-made sausages, more pickled and preserved items, and handcrafted sodas inspired by the pharmacy soda fountains popularized in the 1940s and 1950s.
In addition to sourcing the best products from local and American farmers, beginning in spring 2012 the menu will include products from farmers in Montgomery County and surrounding Maryland farms, with seasonal menu changes to always include local produce.
Award-winning Executive Pastry Chef Courtney Goldian will create an expanded dessert menu with an emphasis on original recipes with fresh fruits and traditional American favorites. The new pastry bar is gawker friendly for guests interested in watching how the sweet treats are prepared.
THE AFTERNOON SOCIAL
Inspired by traditional afternoon tea and the midafternoon break for farmhands working in the fields, the "Afternoon Social" menu features tea sandwiches, scones, a custom organic tea blend, champagne punch, and cookies and other desserts. This modern afternoon break, served Monday–Friday from 2:00 p.m. to 5:00 p.m., may be sought by entrepreneurs looking for a respite from coffeehouses, mom groups escaping their routine, and empty nesters craving a place to socialize and a bite to eat in the afternoon.
THE SPACE
Award-winning D.C. firm CORE architecture + design, collaborating with FRG, has designed Potomac's Founding Farmers in a way that echoes the D.C. space, also designed by CORE — from the silo-styled booths to the custom farm-themed wall coverings throughout — and yet maintains its own, distinct identity. Where the first Founding Farmers brought a farmhouse motif to the city, the Potomac location will offer an urban flair in a largely suburban community.
The restaurant's design reflects characteristics developed in response to guest feedback about the original Founding Farmers space. Highlights include more booth seating and extra outlets for computers at the bar — the custom bar stools even have a shelf space for storing bags to make it more female-friendly.
Potomac's Founding Farmers is an 8,100-square-foot, two-story space that seats 241 guests: 107 in the main dining room, including a 10-person community dining table in the bar area designated by a contemporary, minimalist greenhouse/chicken coop–styled framework; 62 seats in the bar area, including 28 spaces at the bar as well as booths and tables; and 72 seats on the mezzanine level, which is cantilevered over the bar space and is ideal for business meetings or semi-private gatherings. In spring 2012, an outdoor patio will open to accommodate an additional 80 guests, complete with misters, heaters, and a fire pit, creating a desirable destination for al fresco dining in extended seasons.
As with the original restaurant, Potomac's Founding Farmers makes extensive use of reclaimed and recycled materials, including planks salvaged from shoe shipping crates at the bar, and authentic barn wood. Recycled materials include Paperstone, a 100 percent post-consumer solid-surface material used in the restrooms, and Oscoda Protect-All flooring, a 100 percent pre-consumer recycled material, in the kitchen and behind the bar. The restaurant has been designed to meet LEED (Leadership in Energy and Environmental Design) standards, with certification by the U.S. Green Building Council to be sought after the restaurant is open. This location will also operate as a Certified Green Restaurant™.
THE COMMUNITY
Potomac's Founding Farmers will have a focus on the "FFtoGO" program, with dedicated staff to take orders and assist guests with orders to enjoy the Founding Farmers menu at home or in the office. FFtoGO will also include a specially branded, eco-friendly electric delivery vehicle for Park Potomac development residents, corporate offices, and other retail establishments. The FFtoGO program will launch approximately 90 days after the restaurant opens.
Conducting business is not just welcome at Potomac's Founding Farmers, it's encouraged. In addition to a greater number of easy-access outlets for powering up at the bar-area booths and tables, free WiFi is available everywhere in the restaurant, and a printer and overnight mail and postage supplies will make it possible for guests to work while they enjoy a delicious meal. Front desk staff will provide basic business-related concierge assistance to help business guests be their most productive.
ABOUT FARMERS RESTAURANT GROUP
The Farmers Restaurant Group (FRG) is a concept development, operations, and management company established on a platform of farm-inspired American true food and drink in modern, casual, and eco-friendly settings. FRG's leadership and development team created the internationally recognized, award-winning Founding Farmers restaurant in the heart of Washington, D.C., which opened in 2008 and is the first upscale-casual, full-service LEED Gold restaurant in the country, as well as the most-booked restaurant on OpenTable since January 2011. FRG works with an ongoing commitment to supporting American family farmers with exceptional culinary and mixology programs and a dedication to sourcing regionally and seasonally whenever possible. Visit WeAreFoundingFarmers.com to learn more. Twitter: @FoundingFarmers.
###