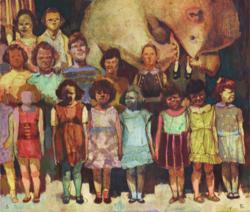 (PRWEB) October 12, 2011
The Sixth Annual 'ILLEST OF ILLUSTRATION' Art Exhibition Opens Friday October 14th at Ringling College of Art and Design at 7:30 PM. Hosting the best of the best work from the student at Ringling College, the Illest of Ill Art Exhibition aims to provide a wonderful evening full of incredible art, inspiring music, and good feelings for all! Produced by students of the Illustration Department, the Illest of Illustration has collaborated with leaders within the Sarasota community, Ringling staff & administration along with numerous student leaders.
This year's theme is "Adventures on the horizon" designed to showcase the adventurous spirit in Illustration. The theme is incorporated in all the pre-emptive marketing and is the encouraged subject matter for entries. Taking inspiration from fantasy movies and sci-fi novels, to comic books and childhood stories, the theme aimed to motivate the innovative imagination of the students to create some incredible artwork worthy of the Ringling name.
Opening night details:
Ringling College Exhibition Hall, 2700 North Tamiami Trail, Sarasota, FL
Friday, October 14th, 7:30-11pm

A free admission and semi-formal event.
Illest merchandise including release of this year's T-shirts, The Ringling 100 art book, posters, stickers and more!
After Party hosted at Growlers starting at 11 pm
Artwork for sale by discretion of the artists.
Photo Booth to remember the evening of Illest.
Live Jazz Music
Gallery open for two weeks until October 24th during school hours in the Exhibition Hall.
Illest of Illustration was founded in the fall of 2006 when a group of Illustration students created a gallery show to further display to underclassmen a set of skills, talent, dedication, and the creative drive that goes into a piece of artwork. Known as Illest of Ill', this art show has quickly become one of the most anticipated shows of the year. Student-run, the exhibition is also juried by world-renowned illustrators.
For more information please go to the FaceBook event site: http://www.facebook.com/event.php?eid=282712765088763
###