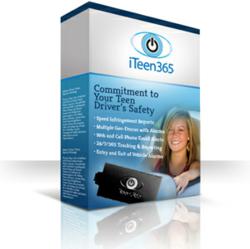 This promising new technology is designed to encourage safe driving habits among teens.
Chicago, IL (PRWEB) October 12, 2011
Nationally, traffic crashes rank as the No. 1 cause of death for teen drivers, according to the AAA Foundation for Traffic Safety. iTeen365 is the newest and most technologically advanced in-vehicle monitoring device that allows parents to keep an eye on how their teen is driving when they can't be in the car with them. This promising new technology is designed to encourage safe driving habits among teens while giving parents peace of mind.
"Until now, parents had to trust that their teens were driving safely when they weren't with them," said Lisa Wolf, Spokesperson for iTrack365 – makers of iTeen365. "iTeen365's innovative technology allows parents to act as driving coaches and monitor how well their teen is driving and obeying the traffic laws. Parents love that they can receive instant alerts if their teen is driving recklessly."
A study by the Insurance Institute for Highway Safety reports that equipping the cars teens drive with in-vehicle monitoring devices can help reduce the risks teens take. iTeen365 is designed to steer teens in the right direction by allowing parents to be virtual driving coaches. The program is easy to use and and allows parents to monitor their teen's driving online in real-time, create driving reports, and set-up email alerts.
Key Features:

Tracking Data: Real-time visibility of vehicle's location
Vehicle History Reports: Detailed driving reports. Up to 4 months of data available for viewing
Mapping: Easy online map view of vehicle location via integrated Google Maps
Speed Infringement Reports: See speeding infringements in different speed zones over a period of time.
Geo Fencings: Designate unapproved driving areas and locations.
Movement Alarms: Alerts any unapproved movement of the vehicle
Alerts / Email Notifications: Receive email alerts for when the vehicle leaves or comes into the area(s) you specify
iTeen365 can be purchased at http://www.iteen365.com for $289.95 (price includes installation) with monthly data plans starting as low at $17.95. After purchase, iTrack365 will coordinate for convenient installation of iTeen365 via a local authorized installation technician. Mobile installation available in select areas.
About iTrack365, Inc.:
iTrack365 has partnered with one of the world's leading providers of telematics to offer a complete range of web-based GPS vehicle tracking and GPS fleet management solutions. Currently available in over 30 countries worldwide, the iTrack365 suite includes: iTeen365, iSenior365, iSpouse365, iFleet365, and iLease365. With advanced technologies, its own full end-to-end solution capabilities from the design of the hardware and software, to the web based hosting solution, iTrack365 has made this a convenient, user-friendly application for both individuals and companies of any size. For more information: http://www.iteen365.com / 866-900-2464. "Like" us at: http://www.facebook.com/Iteen365
###