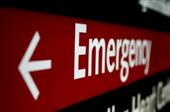 The ED is the most demanding of healthcare environments and the ability of physicians to act unimpeded by non-medical processes is imperative.
New York, NY (PRWEB) October 13, 2011
As ultrasound adoption in the emergency department continues to accelerate, the need for efficient exam management is becoming increasingly pronounced. The Linq, a new online medical imaging community, recently completed a poll of 122 ultrasound directors in Emergency Departments with ultrasound residency programs throughout the US with surprising results.
The Linq, which is sponsored by UltraLinq Healthcare Solutions, asked a series of questions via phone and email surveys with the intent of gaining a comprehensive view of how ultrasound was actually being utilized within the ED.
According to the published results, respondents indicated an average of four ultrasound systems within their ED, with an extensive range between 1 and 26 systems. Of the exams performed during admission, triage, and diagnosis, 40% of the departments indicated they billed for less then 1/3 of these exams, while only 20% claimed to be billing for "Mostly All" of their exams. Those that bill for the minority of exams cited a variety of reasons including poor image quality, lack of credentialing and inadequate departmental documentation.
While 80% of those surveyed had some form of ultrasound exam management system in place, 57% of them were "Not At All Satisfied" or only "Somewhat Satisfied" with their solution. The management systems in place ranged from "Home-Grown" solutions (40%) which included everything from, DVD, USB Drive, iPhoto, and email storage to the general hospital PACS (23%).
The results of the survey while shocking to some, were not to Stephen Farber, UltraLinq's CEO. "We see many vendors in the space that treat the world of Emergency Medicine no differently than the other markets in which they sell. The ED is the most demanding of healthcare environments and the ability of physicians to act unimpeded by non-medical processes is imperative. We have been working closely with the EDs to perfect a billing, documentation, and credentialing management solution that facilitates the management of all ED ultrasound programs."
###