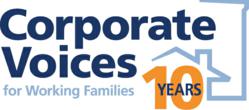 The nation's prosperity depends more than ever on a well-prepared workforce, yet too many young Americans remain poorly equipped to excel in school today and in the economy of tomorrow
Washington, DC (PRWEB) October 12, 2011
At a time when the nation's economy is stalled, the unemployment rate won't budge, and public dollars for critical education, training, and social services are constrained, communities across America are seeking innovative ways to spark economic growth and ensure a skilled workforce for tomorrow. Corporate Voices for Working Families, a nonprofit business membership organization in Washington, DC, has published two new resources that offer valuable guidance for local officials, employers and others teaming up to support children, youth and working families in their communities. Both publications will be the focus of discussion at a Corporate Voices' panel during the National Council of La Raza Workforce Development Forum, in Chicago on October 11 and 12.
Opportunities in the Workforce Readiness Pipeline: A Community Engagement Toolkit for Business, is designed to assist business and local leaders in developing successful, sustainable partnerships to ensure that more young people in their communities have the highest-quality education and supports they need to be successful today, and as the workforce we will depend on tomorrow. The toolkit reflects the expertise of United Way Worldwide and the Workforce Strategy Center, content partners in the publication. It offers practical advice and hands-on steps to investing in community improvement, and features case studies from leading corporate citizens like KPMG LLP's Family for Literacy program, Baxter International's Science@Work program, and the Bridging Richmond initiative, supported by the Altria Group.
Building the Business Case for Investing in Tomorrow's Workforce, also new from Corporate Voices, similarly profiles private-sector commitments to support education and workforce training for lower-skilled employees, and documents the substantial payoff to companies that have done so. Case studies include CVS/Caremark, Pacific Gas and Electric Company, and the Johns Hopkins Hospital system. Both CVS and KPMG executives will be featured panelists at the national La Raza conference on October 12.
"Our tools for community-business engagement address an urgent goal: Strengthening and expanding the most effective partnerships to ensure that more young people can step confidently into jobs leading to careers," said John-Anthony Meza, Vice President of Corporate Voices. "The nation's prosperity depends more than ever on a well-prepared workforce, yet too many young Americans remain poorly equipped to excel in school today and in the economy of tomorrow."
"Engaging the business community, nationally and locally, is a key aspect of ensuring that the nation's young people are prepared for college, work and life. We are so pleased to partner with Corporate Voices on these tools to advance that important goal," said Karen Pittman, President and CEO of the Forum for Youth Investment.
These publications are the latest addition to a unique suite of tools offered by Corporate Voices, based on a decade of experience studying the workforce needs and expectations of employers nationwide. Corporate Voices' community-business engagement tools are produced through the Ready by 21® National Partnership, a team of national organizations committed to helping communities implement Ready by 21—a set of innovative strategies to improve the odds that all children and youth will be ready for college, work and life. The full set of tools may be accessed on Corporate Voices' website at http://www.cvworkingfamilies.org/our-work/workforce-readiness/ready-21/tools-resources-business-community-leaders.
About Corporate Voices for Working Families
Corporate Voices for Working Families is the leading national business membership organization shaping conversations and collaborations on public and corporate policy issues involving working families. A nonprofit, nonpartisan organization, we create and advance innovative policy solutions that reflect a commonality of interests among the private sector both global and domestic, government and other stakeholders. We are a unique voice, and we provide leading and best-practice employers a forum to improve the lives of working families, while strengthening our nation's economy and enhancing the vitality of our communities. Publications, research studies and toolkits on a host of workforce readiness, workplace flexibility, family economic stability and work and family balance issues are available online at http://www.corporatevoices.org.
About Ready by 21
Ready by 21 is a set of strategies developed by the Forum for Youth Investment that helps communities and states make a measurable difference in the lives of children and youth. Ready by 21 helps leaders to build broader partnerships, set bigger goals, use better data and take bolder actions. The Forum is a nonprofit action tank based in Washington, D.C. http://www.readyby21.org.
###