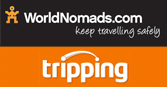 "The best and most-trusted travel advice on a destination generally comes from locals or those who have extensively traveled through the region"
(PRWEB) October 13, 2011
Driven by the Travellr Q&A engine (acquired by WorldNomads.com in 2009), Tripping Answers joins other partners Ask A Nomad (WorldNomads.com) and Local Gossip (GlobalGossip.com) to support travellers looking to gain insight and knowledge from a global community in excess of 1 million travellers and locals.
Unlike a traditional forum, the Travellr Q&A engine matches and routes questions in real-time to locals and experienced travelers in the Network who are most likely to have the right answer based on local experience or having frequently travelled there.
The aim is simple: give the best, most relevant, and insightful answers to travel questions from locals and other travellers who know. Because a network of travel knowledge is also more likely to get better answers than from a single community silo, the Travel Knowledge Network sources more content and delivers more specific answers from a wider global audience.
"The best and most-trusted travel advice on a destination generally comes from locals or those who have extensively traveled through the region," says Christina Tunnah of WorldNomads.com. "With Tripping.com joining the Travel Knowledge Network, the global pool of like-minded travelers who can ask and answer travel questions is vastly expanded and enhanced. "
"We're thrilled that our members will be able to tap into such high quality, user generated travel advice," says Jen O'Neal, CEO of Tripping.com. "Given that the Tripping community is filled with travelers, expats and locals, the Travel Knowledge Network provides an ideal platform for them to engage with each other on a global scale."
A smart tool for travelers, The Travel Knowledge Network is also a smart move for business.
By joining the Network, travel brands get in front of a wider global audience and thereby grow their online reputation beyond their own communities and membership. Questions and answers from a Network partner's website, get posted and branded with their linked logo providing access to customers across the network.
WorldNomads.com has already expanded its involvement in the network through the launch of the iPad app Ask A Nomad. With over 50,000 downloads in its first six weeks, this easy to use mobile tool is further driving travellers through the network, expanding reach and driving Q&A to network partner sites.
For more information on the network and how to become a member site, email Christina Tunnah at christina.tunnah[at]worldnomads.com.
About WorldNomads.com
WorldNomads.com is a travel services company that's in the business of helping independent travelers stay safe and stress-free on the road. It provides global travel safety products and services to travelers from over 150 countries around the world. From great value travel insurance, travel safety advice, language guides, Travel Q&A and free online travel journals, WorldNomads.com provides the tools to keep members travelling safely. All members can donate to a community development project when purchasing travel insurance through the Footprints Charity program. WorldNomads.com is backed by a suite of strong, secure, specialist travel insurance companies. For more information please visit WorldNomads.com.
About Tripping
Tripping is a social travel site that connects travelers with local people for tips, shared cups of coffee and homestays in over 150 countries. By providing a safe and easy way for travelers to engage in cultural exchange, Tripping can transform a simple vacation into a meaningful, life-changing experience. Tripping is also partnered with Ivy League universities, study abroad programs, international volunteer organizations and even touring rock bands. Founded in 2009 by Jen O'Neal and Nate Weisiger, Tripping's mission is to make the world a better place through cultural exchange. To learn more, please visit Tripping.com.
###