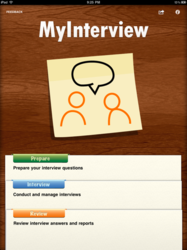 MyInterview for the iPad is full of features that keep multiple aspects of meeting a job applicant or interviewing anyone organized with minimal effort from users
New York (PRWEB) October 12, 2011
Visual Frames is pleased to announce the release of MyInterview, an interviewer's all-in-one management app for the iPad. Media professionals, hiring managers, reporters, and employers everywhere now have a user-friendly tool to assist them before, during, and after any interview. Gone are the days of shuffling through papers for questions, frantically scribbling notes during an interview, and straining to remember impressions and answers.
Designed to streamline the entire interview process, MyInterview for the iPad is full of features that keep multiple aspects of meeting a job applicant or interviewing anyone organized with minimal effort from users. Within the app, consumers have the option to save complete questionnaires from templates or create their own from scratch. Templates are available in English, French, German, Spanish, Japanese and Italian. Users have the freedom to create open ended or multiple-choice questions. Answer options can be text, image, or even audio files. Questionnaires are re-usable and eliminate the need to print more paper!
During a real time interview, MyInterview allows user to take notes on questionnaires from the Prepare feature. Personal contact information, location, and discussion title can be loaded and stored, and MyInterview can even record audio at any chosen moment. With the option to save audio answers, interviewers and interviewees alike can rest assured knowing that an accurate record of what was said is safe with MyInterview.
The Review feature of MyInterview allows the easy evaluation of conducted interviews. No need to decipher hastily written notes! Users can sort their notes by date, time, question, interviewee, or questionnaire. Answers can be shared with colleagues and there is an option to compare and analyze answer statistics. Manually comparing answers is a thing of the past.
With MyInterview, interview preparation and organization is ensured and time is saved.
Pricing and availability:
MyInterview for the iPad is on sale for a limited time for $4.99 and is available worldwide exclusively in the iTunes App Store in the business section.
Visual Frames, LLC is an eCommerce and mobile solutions provider with an innovative approach to problem solving. Established in 2007, the company has already delivered hundreds of eCommerce solutions in the United States and around the World. Visual Frames provides software design and development services for iOS (iPhone, iPad, iPod Touch), Android, and the Web (with a focus on eCommerce).
###