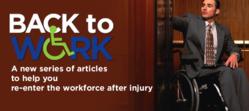 "At our organization, we believe that resuming a work life can help the injured physically, mentally, and financially and we want to help make this goal achievable with this important educational series." ~Will2Walk Founder, Rich Hamill
Gilbert, AZ (PRWEB) October 13, 2011
Re-entering the workforce can be a terrifying proposition for someone afflicted with a spinal cord injury (SCI).
The Will2Walk Foundation, an organization dedicated to helping people with SCIs live healthy lives, demystifies the process of re-entering the workforce with a new series of articles on http://www.will2walk.org entitled "Back to Work."
"In my 18 years of having paralysis, I have met hundreds of other injured people who are afraid to go back into the workforce," says Will2Walk Founder, Rich Hamill. "At our organization, we believe that resuming a work life can help the injured physically, mentally, and financially and we want to help make this goal achievable with this important educational series."
Expert tips and advice
Over the next several weeks, Back to Work will help educate those with SCIs, their families, and prospective employers by answering these important questions on hiring people with SCIs:

How soon after injury should someone re-enter the workforce?
How does working impact someone receiving a Social Security Disability check?
What challenges does someone with an SCI face?
What are the biggest fears people with SCIs have about working?
Which resources would be helpful for both employers of and employees with SCIs?
Future articles include more tips and profiles of a working mother, a cancer researcher, and a filmmaker.
Lynette Ballard, the designated Spinal Cord Injury Social Worker at the University of Utah Hospital Rehabilitation Center provides insights for Back to Work. Ballard believes that being employment can provide great benefits for the injured.
"The idea of returning to work should be introduced earlier in the recovery process than it traditionally is," Ballard says. "Even if someone isn't able to return to a 'paying' job, I know many people with SCIs who volunteer, become mentors, get involved in public speaking, etc. While these are not necessarily the traditional 'return to work' scenarios, they are still valid, valuable forms of work that give a person a real sense of productivity and self-worth."
Employers benefit, too
For employers, hiring people with SCIs can increase workplace diversity in positive ways.
"When [employers] hire someone with a spinal cord injury, they are getting a truly dedicated worker who has overcome great obstacles in order to go back to work," says Ballard. "That's a real asset."
Hamill, who in addition to running Will2Walk has worked as an insurance claims adjuster for over 10 years agrees. "Making workplaces more inclusive can help all employees by providing a unique diversity of thoughts and outlooks."
About Will2Walk
Gilbert, Arizona-based Will2Walk Foundation is dedicated to promoting awareness about spinal cord injuries and educate people with spinal cord injuries about what they can do today to prepare for the cure.
The organization believes that maximum awareness can and will be achieved through a broad range of education about fitness, health, and treatment options.
Will2Walk was started by Rich Hamill who sustained paralysis from the shoulders down in 1992 at age 17. Hamill leads Will2Walk to empower those with SCIs to regain control of their lives and
prepare for the cure through education and perseverance.
###