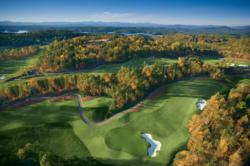 We're thrilled to make The Cliffs part of our continually growing collection of exceptional private and resort golf clubs and luxury residences."
Ponte Vedra Beach, FL (PRWEB) October 12, 2011
The Tour Club announced today the addition of The Cliffs Communities to its growing portfolio of exclusive golf courses, luxury residences and extraordinary golf experiences. The Cliffs' eight private golf communities that stretch along the North Carolina/South Carolina border join THE TOUR CLUB'S already expansive network, which provides members access to more than 40 private clubs and resort courses and luxury residences in the world's most sought-after golf destinations.
The Tour Club offers extraordinary experiences, providing corporations and individuals access to more than $1 billion in combined assets, including a network of luxury residences, private and resort golf courses, previously inaccessible golf-centric experiences, VIP access to select PGA TOUR events, professional golf instruction and event concierge services.
"We're thrilled to make The Cliffs part of our continually growing collection of exceptional private and resort golf clubs and luxury residences, offering our members more options for business connections and memorable getaways," says John Fechter, president of The Tour Club. "The Cliffs' incredible golf courses, stunning homes and extensive amenities exemplify The Tour Club experience and each community is an exquisite venue for both private family retreats and corporate entertainment."
Nestled into the heart of the Carolina's Blue Ridge Mountains and surrounded by one million acres of protected woodlands, The Cliffs Communities offers access to the region's most exclusive golf destinations and also serve as the perfect gateway to the great outdoors. The Cliffs' eight private golf communities are blessed with mild weather, towering peaks, lush valleys, clear streams and majestic waterfalls. Homeowners and guests can tee off on one of The Cliffs' six scenic championship golf courses designed by legendary architects like Tom Fazio and Jack Nicklaus, enjoy comprehensive personalized wellness programs or simply step out their back door to explore hundreds of acres of private parks, over 20 miles of pristine lake shoreline and miles of groomed trails, all within the community gates.
Along with The Cliffs, The Tour Club's most recent additions include Victoria National Golf Club (Newburgh, IN) and Rich Harvest Farms, ranked #35 and #58 on Golf Digest's 2011/2012 list of "America's 100 Greatest Golf Courses," respectively. Members also enjoy exclusive golf privileges and luxurious residences at Pelican Hill (Newport Coast, CA), Wynn (Las Vegas, NV), Atlanta National (Atlanta, GA), Pronghorn (Bend, OR), CordeValle (San Martin, CA), Sutton Bay (Agar, SD), TPC Jasna Polana (Princeton, NJ) and many more.
Corporate service agreements start at $50,000 and are customizable to offer each company the most memorable experiences to build and enhance their business relationships and their company's bottom line. Individual membership options are also available. For more information and complete details, visit The Tour Club's recently enhanced website, http://thetourclub.com.
About The Tour Club
THE TOUR CLUB leverages over $1 billion in assets to provide unparalleled, customized corporate entertainment solutions to companies of all sizes so those companies can create and strengthen their most important business relationships with their customers, suppliers, and employees. The Tour Club helps its customers win the relationship game by providing amazing access and extraordinary experiences with its nationwide network of more than 40 private golf clubs including Rich Harvest Farms, Sutton Bay and Victoria National; luxury residences at some of the world's most sought after golf destinations, behind-the-scenes access to the greatest events in golf, and an expert corporate event team to develop solutions and execute with excellence. The Tour Club also offers family options for those that want the finest in golf. For more information about THE TOUR CLUB please call 877-577-6420 or visit http://thetourclub.com.
About The Cliff Communities
Founded in 1989 by Jim Anthony, The Cliffs Communities offers a unique collection of eight private master-planned communities located between Asheville, N.C. and Greenville, S.C. Collectively bordered by hundreds of thousands of acres of national forests and state parks on the southernmost edge of the Blue Ridge Mountains, the eight Cliffs Communities are located within minutes of one another. When you are a member of one Cliffs community, you are a Member of all eight. The Cliffs offers home sites from the $200,000s and homes from the $500,000s. To learn more about living at The Cliffs, call (877) 254-3371 or visit http://www.cliffscommunities.com.
###