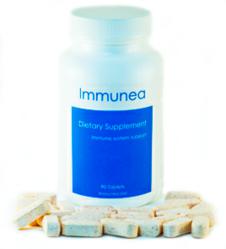 Immunea puts the power in your hands to stop cold sores from ever forming in the first place and that simplifies your romantic and social life… Trust me!"
Champlain, NY (PRWEB) October 12, 2011
Immunea Naturals LLC is proud to announce the launch of its new product, Immunea, a supplement developed solely for cold sore prevention. Rather than waiting until a core sore develops or trying to soothe the undesirable symptoms, Immunea boosts the immune system in order to keep outbreaks from occurring at all.
According to Alex Maurice, Owner: "The problem is, most people wait until they're experiencing initial cold sore symptoms, or until the cold sore actually appears, before they do anything about it. At that point, the battle is lost! Immunea puts the power in your hands to stop cold sores from ever forming in the first place and that simplifies your romantic and social life… Trust me!"
Immunea's seven powerful ingredients were chosen for their clinically proven ability to fight cold sores as well as absolute lack of side effects. Immunea also has the added benefit of boosting the immune system, reducing cold sore severity and length if an outbreak has already occurred.
This product sets itself apart from other cold sore medications through the stellar 90-day guarantee that accompanies all orders. If customers are dissatisfied with Immunea's performance for any reason, their money will be refunded—no questions asked.
"I want to make my customers a bold promise: Immunea must prevent most of their cold sores or drastically reduce their severity, or I insist they write for a full refund. They don't even have to mail the remaining product back. If Immunea is not working for them, we don't want their money, period." Alex said.
The Immunea Naturals LLC team is made up of people who have personally suffered the ill effects of cold sores, and have bent their passion and expertise into conquering this troublesome and embarrassing virus. To prove their confidence in the product they've developed, they take their own medicine and—after fighting cold sores for more than twenty-five years—have now been cold sore free for years.
Immunea Naturals LLC prides itself on providing the ultimate solution for cold sore sufferers. They value the health and well-being of customers, which is why they only offer the highest-quality product and service. Visit Immunea Naturals LLC or email them at pr(at)immunea(dot)net .
To get more information about Immunea, its ingredients, purchasing, or to request an interview with Immunea Naturals LLC, use this online form.
Immunea Naturals LLC
33 Elm Street, Suite 440
Champlain, N.Y. 12919
###