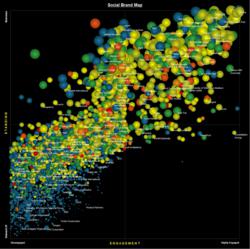 Los Angeles, CA (PRWEB) October 12, 2011
Track Social monitors almost 100 social media metrics for 10,000 businesses on the major social media platforms: Facebook, Twitter and LinkedIn. These metrics are then used to analyze business performance and score and rank businesses accordingly.
The Social Brand Map is a visual tool that gives a high level summary of where a Brand stands in the social media with respect to its peers. It plots Social Standing (the notoriety of a brand in the social media) against Social Engagement (how engaged the brand is with their audience). It also shows Audience Size and Audience Growth, respectively, by the size and color of the plotted bubble.
As brands are placed upon the Social Brand Map, they fall into one of four categories, indicating their relative "social disposition," based upon in which quadrant of the map they reside: Wallflowers (lower left), Snobs (upper left), Dynamos (lower right), and Socialites (upper right). The Socialites comprise the most well-known and engaging of social media brands, and include the major platforms themselves, Facebook and Twitter. Other Socialite brands that are doing a great job in the social media include well-known companies such as Disney, MTV and Starbucks.
The Track Social platform can be used to recognize Social Leaders, but also to assess how individual brands are positioned, diagnose issues with their social media presence, or recognize opportunities based on what other businesses are doing. It is also a portal for the latest news on business activity in the social media.
For more information about Track Social, please visit http://tracksocial.com.
About Sprokkit
The maker of Track Social, Sprokkit, is a marketing agency based in Los Angeles, California. It prides itself on fusing the logical with the inspirational, and generally making sense out of a world full of nonsense.
###