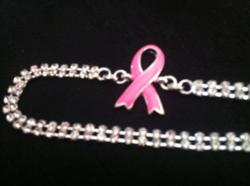 Help battle breast cancer
(PRWEB) October 13, 2011
October is Breast Cancer Awareness month, and at Farfalla-blu we are teaming up with The American Cancer Society of Arizona to help to raise funds for the prevention, treatment, and cure of this devastating disease.
Looking fabulous has never felt so good. Help battle breast cancer with each purchase of a Bra Strap or Swim Suit from http://www.farfalla-blu.com
The pink ribbon has become the symbol of the breast cancer awareness. And now of the http://www.farfalla-blu.com is giving the pink ribbon bra strap for free,* when costumer buy 2 Swim wear ( now on sale ) or 2 Bra Straps, ten percent (10%) of the proceeds will be donated to the Breast Cancer Society AZ.
Get involved,
You may be a runner, a volunteer or an activist or, just today decided to purchase a swimsuit or a Bra strap, Just know, this way you are making a difference, after all.
2 million people will be diagnosed with breast cancer in the next year, these are mothers, sisters and friends who face breast cancer diagnoses every day.
Support their battle against cancer
The American Cancer Society of Arizona strives to raise funds and awareness through event and legislative actions . Breast cancer is still claiming far too many lives. So how get involved?
http://www.farfalla-Blu.com now offers a large line of bra straps for any special occasion. Bra straps strong enough to support up to a D cup, from classy silver loops for everyday use, to sexy and sophisticated ones for any special occasion.
Each one of the bra straps designed for farfalla-blu is manufactured with top quality materials, consisting of 100% copper, rhinestones, and nickel free electroplating.
In the swimsuit department Farfalla-blu also offers an exclusive line of women's swimsuits with one-of-a-kind hand beading, hand-crafted by artisans. Swimsuit styles include: bikinis, monokinis, one-piece swimsuits, bandeau bras, and more...
Get ready for the holidays and buy this beautiful accessory or an exclusive swim suit, for all the special ladies in your life and help to support the American cancer society of Arizona today.
About Farfalla-blu
Farfalla-blu is owned by Hola International LLC a privately held company
Base out Gilbert Arizona. The company is committed to providing women with a shopping experience with beautiful, sexy and elegant garments at competitive pricing and now in our on line store http://www.farfalla-blu.com
Farfalla-blu can be contacted at 1fafalla.blu(at)gmail(dot)com or 480-329-6183
Press contact
Inge McKeeveer
Agent
Farfalla-blu
Tel: 480-329-6183
1farfalla.blu(at)gmail(dot)com
###