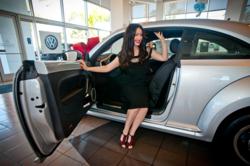 I'm especially pleased that we are giving these Beetles away to such a deserving group of local heros.
Los Angeles, CA (PRWEB) October 14, 2011
LAcarGUY's Volkswagen Santa Monica and Pacific Volkswagen dealerships handed over the keys to the newly redesigned 2012 Beetle to three local Oprah Winfrey fans as part of the show's "Ultimate Favorite Things" giveaway.
These lucky fans were given the surprise of their lives during a November 2010, Oprah "Ultimate Favorite Things" episode, when audience members, all specially selected community heroes, found out that they would be receiving a brand new 2012 Beetle.
Excited to participate in such a deserving promotion, LAcarGUY's Volkswagen Santa Monica was proud to give Gina Elise, the "calendar angel," her new, Silver 2012 Beetle. Gina is the founder of http://www.PinUpsForVets.com, a project that supports hospitalized Veterans and deployed troops. The other local recipients were a couple, Evelyn and Rob Calib, who picked up their Red and Blue 2012 Beetles at Pacific Volkswagen. Evelyn is a breast cancer survivor who started a non-profit, Evelyn's Breast Friends Forever! to provide support to other women going through the same journey (http://www.evsbff.org). See video of winners here.
Redesigned for only the second time in history, the sportier 2.5L 2012 Beetle is a modern interpretation of the iconic Beetle design. Balancing classic beauty with a contemporary edge and enhanced performance, the 2012 Beetle provides an exhilarating driving experience.
"LAcarGUY is thrilled to offer Los Angeles the 2012 Beetle, reborn and re-engineered for the 21st century," said Mike Sullivan, Owner of LAcarGUY. "I'm especially pleased that we are giving these Beetles away to such a deserving group of local heros."
About LAcarGUY
The LAcarGUY family of dealerships has been a Los Angeles fixture since "Sully" Sullivan opened his first dealership, Volkswagen Santa Monica in 1964. Today, LAcarGUY includes 10 award-winning dealerships throughout Los Angeles and a state-of-the-art body shop. Known for its outstanding customer service, long-term relationships, and word-of-mouth marketing, LAcarGUY is the first choice when shopping for a new or used car. As a local family-owned business, LAcarGUY is recognized as a prominent supporter of community events, charitable organizations and environmental causes. As the number one hybrid dealer in the world, LAcarGUY is proud to lead the industry to a greener automotive future. For more information about the Oprah New Beetle giveaway at Pacific Volkswagen and Volkswagen Santa Monica, contact Brad Burlingham at 310-531-9400.
The 2012 Beetle
Featuring a lower, more aggressive stance, and an increased width for better handling, the 2012 Beetle was built to perform. The 2012 Beetle is also longer for increased interior space, and customizable through Volkswagen's second skin program which allows customers to design their 2012 Beetle with an array of accessories for interior and exterior personalization (i.e. customers can "wrap" their vehicle in race-inspired graphics).
The 2.5L Beetle has a starting MSRP of $18,995 plus destination fees, and comes standard with a split folding rear seat, aux-in for portable audio players, a leather steering wheel, unique and customizable17-inch alloy wheels, and an eight-speaker audio system. Attractive options include a kaeferfach additional glove box, Bluetooth® technology, iPod® connectivity, heated front seats, three-color interior ambient lighting, a panoramic sunroof, 18-inch alloy wheels, the Fender® Premium Audio System, and leatherette seating surfaces.
The 2.0L Turbo Beetle, which has a starting MSRP of $23,395, comes standard with a six-speed manual transmission, with the option of Volkswagen's DSG© dual-clutch automatic transmission. In addition to the standard equipment found on the Beetle, this model adds Bluetooth® technology, iPod® connectivity, three-color ambient lighting, larger brakes with red calipers, the kaeferfach additional glove box, sport seating surfaces, 18-inch alloy wheels, a rear spoiler, fog lights, three additional gauges in the dashboard, and alloy pedals.
The all-new Beetle is covered under the no-charge Carefree Maintenance Program. All scheduled maintenance is covered for the length of the New Vehicle Warranty—three years or 36,000 miles, whichever occurs first.
For more information on the 2012 Beetle models, including additional trim options, vehicle specifications and images, visit http://media.vw.com/models/beetle.
# # #