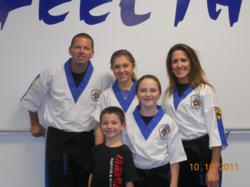 (PRWEB) October 12, 2011
Rather than having family game night to bring the family together, The Davis family of Baldwinsville New York has a unique way of bringing everyone together. Twice a week the family of five grapples, spars and kicks together at Iannuzzo's Karate School. Recently the family has achieved much success after earning their second-degree black belts. Fred Davis says that with so many distractions and different individual interests, this quality time that his family spends together is unique to many families.
"There are families that sit in the stands and watch the race," Davis said "And there are families who run the race, and we're together and we run the race."
Davis, along with his wife, Joyce and their three kids have been training at Iannuzzo's Karate School for the past five years. Davis, his wife and their two daughters all have second-degree black belts, while his seven-year-old son has a blue belt.
Joyce Davis says that working together at the karate school helps motivate each other and reach the goals that they individually set. Karate, she says, has helped build her children's confidence and the constant support they provide each other has given her children the confidence to push themselves.
Fred Davis knows that it's difficult for many families to set aside time to be together, but he says that it's important that his family has found common ground that has forged a stronger bond among the five. Davis noted that his fifteen-year-old daughter has become closer with him since they've been training together. "My fifteen-year-old feels an openness to talk to her father because of karate, you can't put a price on that," he said.
Davis also believes it's important that his family has also found an activity that keeps them active and teaches them about health, wellness and nutrition.
Although the family supports each other in the individual activities like sports teams, martial arts enables them support each other on the field rather than from the sidelines.
The Davis family isn't the only family that trains together at Iannuzzo's Karate School. In fact when the Davis family sees other families they like to encourage them because training together can seem Intimidating at first. Fred Davis said that although it may be daunting at first, "Rick Iannuzzo has don such a good job of not making it like a military system," he said. "It's a family environment where he encourages everyone to work to the best of their on individual abilities."
Iannuzzo's wife, Julia is an ACE Certified Professional Trainer and certified black belt who also teaches at the karate school. She truly believes that "a family that kicks together sticks together."
Iannuzzo's Karate School has also developed an online program, http://www.internationalkarateschool.com, for families beyond the Central New York span who want to train together. Internationalkarateschool.com is designed for men, women and children of all ages. The program enables Martial Arts enthusiasts to earn black belts in the comfort of their own home and on their own time. To learn more about the online karate programs available please visit internationalkarateschool.com
###