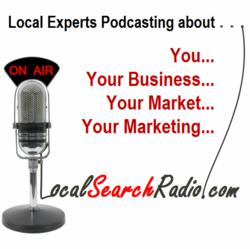 We will be sticking to the mandate of featuring useful, relevant content for small business owners and people interested in marketing
Toronto, Ontario, Canada (PRWEB) October 11, 2011
LocalSearchRadio.com is getting set to launch as a new podcasting site for entrepreneurs. The new site is another LocalHood Marketing initiative intended to help local business owners with their marketing efforts.
The site's content will focus on interviewing expert guests who may be authors, successful business owners, business leaders and coaches, sales consultants and experts in motivation and inspiration. The site's tag line promises that the podcast content will be all about "You, Your Business, Your Market and Your Marketing".
Several guest podcasters have agreed to be interviewed and the first podcast will hit the online, digital airspace sometime during the first week of November, 2011. The first guest has not yet been announced but the first podcast will feature content centered around social networking for local businesses.
LocalHood Marketing Manager, Wilf Barnes has agreed to host the first series of interviews and is open to suggestions for future guests and for future show content. "We'll be sticking to the mandate of featuring useful, relevant content for small business owners and people interested in marketing."
"We're hopeful of producing some great interviews that will allow listeners to benefit from the experience and expertise of other credible business experts," says Barnes. "We're also open to suggestions for content and we invite requests from anyone who'd like to showcase their expertise." Barnes does caution future interviewees "... but we do want great content, not veiled sales pitches."
About LocalHood Marketing
LocalHood Marketing manages the Canadian web presence directory LocalHood.ca which is in beta release. "LocalHood" is a LocalHood Marketing trade mark. For more information, go to LocalHood.ca. Questions can be directed to (289) 752-7335 or toll free 1-888-975-9222 email: info(at)localhood(dot)ca
###