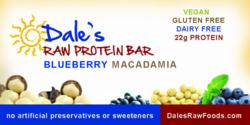 "You don't have to be a vegan to enjoy my products. Most people who buy are not vegan, yet they appreciate the fact that they get the highest quality ingredients from plant based sources in their diet"
Boca Raton, FL (PRWEB) October 13, 2011
Dale Buchanan, Founder and Owner of Dale's Raw Foods, is fulfilling orders for over 10,000 Dale's Raw Protein Bars a month as well as his own line of raw protein powder, raw trail mix, and raw greens. Everything is vegan, gluten free, dairy free, all natural with no preservatives or artificial sweeteners. "You don't have to be a vegan to enjoy my products. Most people who buy are not vegan, yet they appreciate the fact that they get the highest quality ingredients from plant based sources in their diet", explains Dale.
Dale Buchanan started Dale's Raw Foods in March of this year with just enough money to build a website and create a free shopping cart using Paypal. Dales says that "Some students of mine at a kettlebell fitness workshop in July 2010 tried one of my home made raw protein bars and told me I need to sell them. I did not think much of it then until my friend Rocco Castellano encouraged me to follow the path of educating people on a raw food diet."
Raw foods are living foods that are unprocessed and in their natural state. Examples are fruits, vegetables, nuts, and seeds (including sprouted whole grains). Most people refer to is at Raw Vegan Nutrition or a Plant Based Diet. Foods cooked above about 115 degrees have lost their enzymes and thus a significant amount of their nutritional value and may be harmful to the body, whereas uncooked foods provide living enzymes and proper nutrition.
Dale built and opened up a commercial kitchen in Boca Raton in August after spending many weekends renting other kitchens to make the protein bars. The money used to build the kitchen came from Dale's savings and the sales of the Dale's Raw Foods products in the first 3 months of business. No loans, no investors, and no debt. "This is a cash only business, we only buy what we need and have the money to spend", says Dale
The amazing thing about Dale's business and how successful it has become in only 6 months is that it's all been done online. Mostly promoted on Facebook and Twitter, people see about their foods and order from the website and they ship fresh, healthy, and delicious products directly to their door within 7 days. There are about 15 people, all health and fitness professionals, who also sell Dale's products to their clients after becoming a customer themselves.
"I've tried several protein bars and powders over the years and Dales Raw Foods, hands down, has the best tasting and healthiest products on the market", says Veronica Collins, a personal trainer and distributor for Dale's Raw Foods. "I like the fact that Dale took the most natural and chemical-free ingredients he could find and packaged them into perfect portions without added sugars. My clients love them and I only recommend the best nutrition for people on my personal training program." 
Now, with a staff of 6 employees; 4 in the kitchen and 2 in sales, Dale's Raw Foods plans on acquiring more national wholesale accounts and to get the products sold in some local retail stores.
For more information, press only: Dale Buchanan, 561-544-0044 or 561-212-0468
dale(at)dalesrawfoods(dot)com, http://dalesrawfoods.com
###