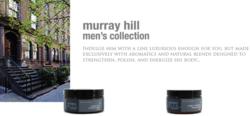 Appealing to every man with modern scents and lush textures, The Murray Hill Men's Collection, the newest addition to the Pink Papaya line, brings the best skin care has to offer to his side of the sink.
Los Angeles, CA (PRWEB) October 13, 2011
Luxury for men made simple: The philosophy behind Pink Papaya's new line, the Murray Hill Men's Collection, is delivered with understated masculinity in effortless botanical formulas designed to strengthen, polish, and energize his body. Appealing to every man with modern scents and lush textures, the latest line of the growing natural spa, beauty, and skincare brand is about to bring the best skin care has to offer to his side of the sink.
With Murray Hill's exclusive aromatics and natural blends, overworked hands and tired skin will be soothed and reenergized with nature's finest:
· Sandstone Power Scrub: Help even the toughest hands with a powerful scrub that buffs away dry skin and calluses with healing oils and extracts that hydrate and soothe. Cucumber, pineapple, and cranberry extracts naturally cleanse while carrot seed extracts, sweet almond, sesame, and coconut oils deeply hydrate.
· Steel Strength Hand Repair: This rich yet non-greasy formula helps hands with the toughest calluses and roughest cuticles. It dries to a smooth finish, leaving minimal residue on hands. Formulated with a blend of intense moisturizers and birch leaves, blue malva extracts help repair chapped hands and vitamin A and E, arnica, and elderberry extracts penetrate to help heal and sooth dry cracked hands.
· Twisted Lime Shave Cream: This rich creamy shave cream naturally softens his beard and conditions skin for a close and comfortable shave. After shaving, skin feels incredibly smooth and softened. Sesame seed oil, shea butter, quassia, and aloe vera naturally moisturize and condition skin, preventing dryness as juniper berry and white willow bark naturally cleanse, tone, and control any excess oiliness.
· Twisted Lime Anti-Aging Balm: This ultra light formula absorbs quickly, helps restore the skin's protective moisture barrier and suppleness after shaving, and diminishes the appearance of fine lines. Bamboo, sea algae, and chamomile extracts soothe and moisturize while sage calms freshly shaved skin. Sodium hyaluronate deeply hydrates even the roughest skin.
· Gentlemen's Urban Groove Body Lotion: Moisturizing jojoba oil nourishes dry skin and is infused with an effervescent scent. Hydrating apricot, avocado, and carrot seed extracts soften and protect as a refreshing blend of ivy leaf and apple extracts soothe skin.
· Rough It Up Body Wash: Recharge from head-to-toe with this energizing formula that offers a dual exfoliation system that promotes smooth skin. Packed with skin nourishing fig, Irish moss, and sea kelp extracts and natural exfoliants, this unique blend is unlike other harsh detergents that can irritate, strip, or dehydrate skin.
Pink Papaya offers intimate home delivery and exceptional customer service and is sold exclusively through a growing network of consultants. Safe and natural, Pink Papaya is a member of the Natural Products Association and offers head-to-toe paraben-free options with their growing variety of naturally cleansing, toning, detoxifying, treating, and hydrating products for all skin types.
To learn more about Murray Hill Men's Collection, view their product catalogs, visit their online store, find an independent consultant, or learn more about becoming a Pink Papaya Consultant, visit http://www.pinkpapayaparties.com or call 1-866-PINK444.
About Pink Papaya
As sisters, friends, and now co-founders of Pink Papaya, Susan Huneke and Karen Woller began their journey as children when they would brainstorm into the night about different businesses they could one day start together. In 2004, Karen and Susan made the vision a reality, when Karen, over-worked, stressed, and surrounded by other women just like herself and Susan feeling much the same, made a commitment to bring quality products that offered an immediate ahhhh to a woman's day to the beauty market. Then, together in 2006, they launched Pink Papaya with over 80 quality beauty products and began signing on Independent Consultants. And soon after, with guiding principles rooted in integrity, entrepreneurial spirit, love and passion of the brand, a sense of belonging, delighting customers, contribution to community and environment, strong support of consultants' success, and having fun, over 60 consultants were sharing Pink Papaya's products, opportunity, and dream! Since then, the company has grown to over 1,000 Consultants and tripled its natural product line. From the beginning, the sister's dream included giving back, and today they contribute to three unique Pink Papaya Philanthropy Programs: a Mother's Day program for women in need at homeless and abuse shelters, a program recognizing and rewarding women raised in the foster care system who have chosen to pursue a higher education, and their mission to support a network of girl's villages in Zimbabwe.
###