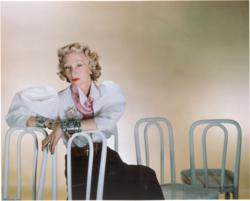 Visitors will have an opportunity to see things we've never offered to the public before.
--Cathy Connelly, Director of Tourism and Public Affairs for the Town of Taos, NM
Taos, NM (PRWEB) October 12, 2011
For centuries, pioneering spirits have sought out and settled in Taos, NM. One group that has found Taos particularly appealing is adventurous, creative women. Inexorably drawn by the place's rugged beauty and rich, ancient history, they carved out compelling lives on the high desert mesa filled with the art and philosophy influencing their time. Two such iconic women who sought and found freedom in Taos are artists Agnes Martin and Beatrice Mandelman, both would turn 100 in 2012 – along with New Mexico's centennial of statehood. Including the iconic Georgia O'Keeffe, Mabel Dodge Luhan as well as oil heiress Millicent Rogers and pottery artist Maria Martinez, the women will be highlighted throughout the year through events, exhibitions, books and a film as well as special tours.
The Town of Taos, NM will launch Remarkable Women at 11 am on March 22, 2012, at the University of New Mexico Harwood Museum on the 100th birthday of Agnes Martin, featuring a little-known exhibit of her early works. Guided and self-guided tours, including textile and jewelry focused options, will be available to experience the sites and unique places that inspired and continue to inspire both women and men. Events such as behind the scenes art tours and exhibits featuring the Remarkable Women start as early as January 2012.
"Our intent in 2012 is to give visitors an intimate look at the special places throughout Taos County that have moved creative people for decades," explained Cathy Connelly, Town of Taos Director of Tourism and Public Affairs. "People will have an opportunity to see things we've never offered to the public before."
One of the most noted remarkable women of Taos was Mabel Dodge Luhan, often credited as one of the pioneers of the Taos Society of Artists. Her friends and frequent Taos guests included Georgia O'Keeffe, Ansel Adams and D.H. Lawrence. A self-guided tour showcases some of Luhan's favorite spots including the Taos Pueblo (now a UNESCO Living World Heritage site as well as a National Historic Landmark), the Mabel Dodge Luhan House, the Historic Taos Inn, the D.H. Lawrence "Forbidden Paintings" at the La Fonda Hotel, the Taos Plaza and the San Francisco de Asis Church.
Taosena Millicent Rogers, the Shell Oil heiress who spent a significant portion of her life in Taos, was known for her iconoclastic clothing and jewelry. Her private collection of Native American art, jewelry and clothing will be on display for the first time ever at the Millicent Rogers Museum.
Some of the highlights of the Museum exhibits include:
Harwood Museum of Art Agnes Martin: Before the Grid February 25-June 17, 2012: The museum will present an exhibition of a little known body of Martin's paintings dating from the late 1940s and 1950s. Agnes Martin: Before the Grid will trace the entire span of Martin's early work, beginning with early portraits, a still life, and landscapes. The direction towards abstraction will be evident in several biomorphic works and early geometric paintings.
Beatrice Mandelman: Centennial July 7-October 14 The exhibition will draw from the Harwood's permanent collection, which includes a significant gift of work by Beatrice Mandelman from the Mandelman-Ribak Foundation.
Millicent Rogers Museum Millicent Rogers: The Power to Create, Collect, and Inspire All of 2012 (Gallery 1): The introductory Gallery will be transformed into the legacy of Millicent Rogers. The first phase of the show will share the "behind the scenes" Millicent. On view will be the jewelry fabricated by Millicent, which has never been on public display before. From the archives of the museum, there will be correspondence from Millicent to her sons, sketches of jewelry designs and pages from Millicent's original Navajo rug inventories. The second phase, which will rotate in, will focus on "Millicent in the Limelight." Velvet skirts and blouses from the collection will show off Navajo and Pueblo jewelry collected by Millicent. Throughout the exhibit, inspirational quotes by Millicent andstories of her life in Taos will be on view.
Maria Martinez: Matriarch of San Ildefonso January through December 2012 Galleries 3 & 4: One of the museum's gems is the largest Martinez family collection on public display. In addition to the exhibition of Maria Martinez and her pottery, her life as a matriarch of her community will be shared. Her ability to raise afamily, continue her involvement in Pueblo life, all while perfecting the art of black on black pottery. Learn about her influence on potters in her village, as well as Native women throughout the southwest.
Millicent Rogers & Her Circle May 12th – September 2, 2012 Gallery 10: Taos continues to attract interesting and powerful women. Their social circles and friendships are the things stories are made of. Objects from the collection will tell stories of Millicent Rogers, Dorothy Brett, Rebecca James and Martha Reed. Learn the stories of the buying and trading of collections between Millicent and Mabel Dodge Lujan.
Guided and Self-guided Tour highlights include:
Historic Textiles to Delight the Soul
One of the cultural objects that caught the eye of Millicent Rogers was the blankets worn by Native Americans in and around Taos Pueblo and the Plaza. A sample is on view in Gallery 2 but there are more, over 200, in the collection vault of the Museum. These will be shared in a seminar setting with the Museum's Curator Carmela Quinto and Ray Trotter of RB Ravens Gallery of Ranchos de Taos. This opportunity compliments a Museum tour and provides an in depth introduction to the Southwestern textiles and the Navajo blankets many that are woven by women.
Monday- Friday $25 per person; minimum 5 and maximum 25
Fine Vintage Native American Jewelry to Inspire the Eye
The most noted and impressive category in the Museum's collection is the jewelry of the Southwest. From objects acquired by Millicent Rogers on visits to tribal gatherings to contemporary examples this collection is a visual treat! After a tour of the Museum with an emphasis on jewelry and turquoise, learn more about vintage Indian jewelry and its style with the Museum Store Manager, Joy Jensen. This unique 30 minute introduction provides knowledge and insight into what to look for in quality jewelry.
Tuesday – Thursday or Sunday, $25 per person; minimum 5 and maximum 25
For a full listing of events including over a dozen art exhibits/events and guided and self-guided tours, go here.
FOR MEDIA INQUIRIES PLEASE CONTACT:
jennifer(at)jlhmedia(dot)com
505 603 8643
###