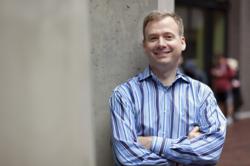 At Kashoo, as part of our mission to simplify accounting and bookkeeping for small businesses and freelancers, it's key that we have a team that is focused on user experience
Vancouver, British Columbia (PRWEB) October 12, 2011
Kashoo, Inc., a leading provider of online accounting software and iPad accounting app for small businesses and freelancers, announced today that Chuck Clark has joined the team as Chief Technical Officer.
"We're excited to have Chuck join the Kashoo team. As part of our mission to simplify accounting and bookkeeping for small businesses and freelancers, it's key that we have a team that is focused on user experience," said Jim Secord, CEO. "Chuck shares our passion for mobile platforms and has a vision of how new devices like the iPad and the iPhone can simplify the process of bookkeeping for small business people."
Chuck brings over 15 years of experience delivering outstanding customer experiences through sites like Orbitz, American Airlines, and Cheaptickets. Prior to Kashoo, Chuck led product development at Pulse Energy and spent six years as Chief Architect for Orbitz Worldwide, based in Chicago, Illinois.
Kashoo's accounting software solutions give small businesses and entrepreneurs the flexibility to manage all aspects of their finances, including monitoring key business metrics, creating and delivering invoices, recording expenses, tracking payments, and generating financial reports such as balance sheet and income statement.
In August, the company introduced Kashoo Accounting for the iPad, which has been downloaded by thousands of small business people who can now keep track of receipts, invoices, and bank balances immediately wherever they are. The company is introducing more mobile products this year to help business owners manage their finances.
Visit Kashoo's website to download the free iPad accounting app.
About Kashoo
Kashoo, Inc. develops easy-to-use online accounting and record keeping software for small business owners and freelancers around the world. Founded in 2008, the company is located in Vancouver, British Columbia, Canada.
###