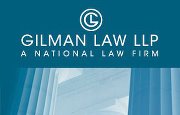 For over 30 years, Gilman Law LLP has successfully enforced the rights of investors who have been the victims of securities fraud. The firm specializes in prosecuting cases relating to securities fraud, stock manipulation and shareholder's rights, and is
Naples, FL (PRWEB) October 17, 2011
Gilman Law LLP, a prominent national securities law firm, announces the launch of a new website designed to inform the public of current securities fraud investigations. For over 30 years, Gilman Law LLP has successfully enforced the rights of investors who have been the victims of securities fraud. The firm specializes in prosecuting cases relating to securities fraud, stock manipulation and shareholder's rights, and is nationally recognized for its securities, antitrust and consumer practices. With this new securities website, Gilman Law LLP hopes to aid victims of investment fraud with the information needed to take legal action.
Visitors can access the new site and learn more about current securities fraud investigations by going to Gilman Law LLP's main website, http://www.gilmanlawllp.com or http://www.gilmanlawsecuritiesstocksbondsfraud.com or the main investigation page Securities Under Investigation.
CURRENT INVESTIGATIONS
Ralcorp: Ralcorp. Holdings Inc. (Ralcorp) and its Board of Directors has been named in a putative shareholder class action lawsuit in Missouri Circuit Court alleging a breach of fiduciary duty to shareholders and violations of numerous state and federal laws (courthousenews.com/2011/09/19/Ralcorp.pdf") (Cause No. 1122-CC09665) The allegations stem from Ralcorp's allegedly unreasonable refusal of a proposed offer to acquire the company made by ConAgra Foods, Inc., even though the generous cash offer was well above Ralcorp's market price.
JinkoSolar Holdings Company: According to a report from (rechargenews.com/business_area/finance/article283338.ece) RechargeNews.com published on October 12, and as mentioned in Law360 (law360.com/newyork/articles/277274/jinkosolar-failed-to-disclose-sludge-dumping-investor) a class action lawsuit has been filed in U.S. District Court (Case No. 11-CV-7133), Southern District of New York, following a pollution incident at the company's primary cell manufacturing plant in Haining, China. The spill resulted in a massive die-off of fish in a river adjacent to the plant, and sparked protests by hundreds of local residents who eventually ransacked the facility. JinkoSolar Holdings took responsibility for the pollution incident. In the aftermath of the incident, shares in JinkoSolar Holdings lost 42% of their value in a single week.
Gentiva: According to a report from (zacks.com/stock/news/61914/Investors+Sue+Gentiva) Zacks Investment Research published on September 29, and listed in Reuters (reuters.com/finance/stocks/GTIV.O/key-developments?pn=1) Gentiva has been named in shareholder class action lawsuits (Case No. 10-CV-05064) alleging it did not disclose that the Company was increasing the frequency of in-home therapy visits in order to obtain higher reimbursement rates from the Medicare Home Health Prospective Payment System. According to the report, Gentiva's practices are being investigated by the U.S. Senate Finance Committee and the Securities and Exchange Commission. The lawsuits claim that Gentiva experienced increasing revenue and advertised positive business condition and future prospects without disclosing that the Company's growth was largely due to the alleged ongoing Medicare fraud.
Great Atlantic & Pacific Tea Company, Inc.: Great Atlantic & Pacific Tea Company, Inc. (A&P) has been name in a class action lawsuit in U.S. District Court, District of New Jersey, alleging the Company failed to disclose that low-cost competitors such as Wal-Mart and Target were negatively impacting A&P's financial stability (securities.stanford.edu/1047/GAPTQ00_01/ Case No. 11-CV-05196) The suit also claims that the Company's acquisition of Pathmark was detrimental because Pathmark's financial condition was much worse than what had been presented to investors. On December 10, 2010, A&P revealed the dire financial condition of the Company and informed investors that it would likely be forced to file for bankruptcy protection. Not surprisingly, A&P shares promptly nose-dived.
Sequans Communications: Sequans has been named in a shareholder class action lawsuit in U.S. District Court, Southern District of New York, for allegedly misleading investors by advertising expected financial growth for 2011 based on the increasing demand for 4G technology (securities.stanford.edu/1047/SQNS00_01/201199_f01c_.pdf" Case No. 11-CV-06341). In fact, the Company's biggest customer, HTC, was not interested in Sequans' technology. The lawsuit further alleges that Sequans also misled investors by advertising positive Company growth and future prospects, causing artificially inflated share prices.
Allos Therapeutics, Inc.: Allos is a biopharmaceutical company that develops and commercializes anti-cancer treatments. A class action lawsuit filed in U.S. District Court, District of Colorado, the Company's Board of Directors allegedly breached their fiduciary duty to shareholders and violated several state and federal laws concerning a proposed acquisition by AMAG Pharmaceuticals, Inc. (AMAG) for approximately $260 million (securities.stanford.edu/1047/ALTH00_01/2011923_f02k_1101895.pdf Case No. 11-CV-01895).
Imperial Holdings, Inc.: Imperial and several of its executive officers are currently under investigation by the FBI concerning the Company's life finance business. The life finance practice involves purchasing life insurance policies at a deep discount in order to collect the payout at a later date. According to a (reuters.com/article/2011/09/28/us-imperial-idUSTRE78R3TE20110928) report from Reuters, the FBI raided the Imperial Florida offices on Tuesday, September 27, 2011.
Hewlett-Packard Co.: A class action lawsuit filed in U.S. District Court, Central District of California, alleges the technology giant mismanaged the efficiency of the Company and failed to disclose several flaws in its business model (securities.stanford.edu/1047/HPQ00_01/2011913_f02c_1101404.pdf" Case No. 11-CV-01404). HP advertised that webOS would be an integral part of the Company, including running on the new HP TouchPad tablet PC in addition to all HP Pcs by 2012. Contrary to this claim, webOS was not central to the HP business model and would not be assimilated into the entire HP product line. Additionally, HP did not have grounds to publicize positive information about the Company's revenue growth, market share, new products, diluted EPS, and ability to adhere to its long-term growth model.
Bank of America Corporation: A class action lawsuit in U.S. District Court, Southern District of New York, alleges BofA, one of the largest financial institutions in the world, misled investors by failing to disclose that the Company potentially owes American International Group, Inc. ("AIG") a whopping $10 billion for residential mortgage-backed securities (RMBS) sold to AIG by BofA's subsidiaries, Merrill Lynch and Countrywide Financial Corporation between 2005 and 2007 (securities.stanford.edu/1047/BAC00_02/2011923_f01c_.pdf Case No. 11-CV-6678). This put BofA in serious danger of a lawsuit as a result of AIG's losses, a fact that was not revealed to shareholders. By not disclosing the potential suit, BofA experienced artificially inflated BAC stock prices. The alleged misconduct caught up with the Company when AIG filed suit against BofA on August 8, 2011 to recover its losses (nytimes.com/2011/08/08/business/aig-to-sue-bank-of-america-over-mortgage-bonds.html?pagewanted=all). BofA stock immediately dropped 20% from $8.17 per share to $6.51 in a mere day.
GILMAN LAW HELPING THOSE WHO HAVE BEEN HARMED
Gilman Law LLP also covers other areas of law. In addition to Securities Fraud, Gilman Law has in-depth experience in Defective Drugs and Defective Medical Devices, Antitrust, Toxic Substances Litigation, Consumer Protection, Defective Products, Employment Law, Insurance Litigation, and Business Litigation. The lawyers at Gilman Law LLP, a leading national law firm, have been recognized for the results they have delivered to their clients across a broad range of claims. For over 32 years, the Gilman Law team of highly experienced lawyers has been well known for their results and tireless work on behalf of their clients on many of today's most challenging and important litigation cases.
Gilman Law LLP encourages visitors to link to its sites from their own blogs and Web sites to better inform the public about securities fraud, defective medical products and dangerous drugs, and to assist victims in finding the help and legal recourse they need.
ABOUT GILMAN LAW LLP
Gilman Law LLP, a leading national law firm with offices in Florida and Massachusetts, has been recognized for delivering successful results to their clients across a broad range of claims stemming from consumer product injury, mass tort, and class action lawsuits. For over 32 years, the Gilman Law LLP team of highly experienced lawyers has been well known for their results and tireless work on behalf of their clients on many of today's most challenging and important litigation cases.
Contact:
The Gilman Law LLP
Beachway Professional Center Tower
Suite 307
3301 Bonita Beach Road
Bonita Springs, FL 34134
TOLL-FREE 1-877-428-7374
# # #