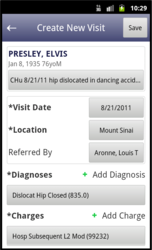 By expanding to Android, pMDsoft is now available on the most open operating system with the widest range of devices to suit all needs.
San Francisco, CA (PRWEB) October 12, 2011
pMDsoft's native mobile charge capture application is now available in beta on Google's Android platform.
The software company, which creates software for doctors to capture billing charges, manage patient information and communicate with each other, has designed their Android app to be even easier to use than other platforms.
"The iPhone and BlackBerry have strict design requirements," pMDsoft CEO Philippe d'Offay said. "If you compare the same app on an iPhone and BlackBerry, each will have some advantages and disadvantages just based on the specifications for each operating system. But because Android gives you so much freedom in development, we have been able to combine the best of both worlds on a single platform."
As pMDsoft prepared the beta version of their app, d'Offay required all pMDsoft employees to use Android devices. "Only about 20 percent of our team was using Android before we began development, but even our die-hard iPhone lovers have been impressed. Android has filled the niche between the iPhone and BlackBerry and given people choice and customized control."
Physicians using pMDsoft began requesting the app on Android last year, but the company would not commit to development until they could ensure an exceptional and consistent user experience with their app on the platform.
"The devices coming out on Android now are incredible," d'Offay said. "They've evolved past early adoption to being mainstream. And they can finally support powerful apps like pMDsoft. Our app is extremely sophisticated, but we've made it as easy to use as an address book."
pMDsoft user Dr. Jared Selter, a physician with Cardiology Associates at Fairfield County, is an Android advocate and has been following the company's development. "pMDsoft has become an invaluable tool for maximizing practice and billing efficiency in the hospital by connecting hospital providers directly with office administrative staff," he said. "I cannot imagine practicing without it."
"By expanding to Android, pMDsoft is now available on the most open operating system with the widest range of devices to suit all needs," Dr. Selter continued. "Android also provides universal carrier coverage so providers can opt for the best network in their area and not one based on device availability."
The beta version of pMDsoft is currently available on selected Motorola, Samsung and HTC devices on all major cell phone carriers. Development updates will be posted on pMDsoft's Web site as the Android app moves out of the beta stage and becomes available on additional Android devices.
pMDsoft's mobile charge capture software supports physicians by allowing them to enter their patient charges into Android, iPad, iPhone, iPod Touch and BlackBerry devices at the point of patient care. The patient visit is then visible to other doctors within the practice and can be billed immediately. Doctors using charge capture are increasing their ROI in a time where Medicare cuts and other costs are significantly impacting profitability. pMDsoft increases efficiencies in a practice through automation, and it provides free interfaces with almost every major electronic medical record and medical billing system, including Allscripts, athenaCollector by athenahealth (Athena), GE Centricity (formerly Millbrook and IDX), Cerner, NextGen and Sage Intergy. For more information, visit http://www.pmdsoft.com.
###