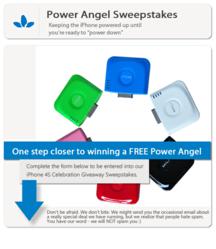 At MiLi, we love the iPhone 4S.
West Hurley, NY (PRWEB) October 12, 2011
Since the iPhone's introduction in 2007, Apple has chased towards perfecting the mobile market. And just when it seems as if they have finally developed the perfect phone, they release a better one – the latest being the iPhone 4S.
The iPhone collection acts as an all-in-one solution for most consumer electronic needs. Apple has developed an extensive list of applications that provide consumers with just about everything they can dream up.
In celebration of the iPhone 4S, MiLi Power will be running a giveaway sweepstakes for our MiLi Power Angel on our Facebook page (CLICK HERE). The contest will run until Oct 31st, 2011.
All that is required to participate in the iPhone 4S Celebration Giveaway is to LIKE us on Facebook & fill out the simple form.
MiLi will be announcing the winners on 11/1/11 via email. To subscribe to our giveaway please visit http://www.facebook.com/MiLiPower
For more details on the MiLi Power Angel go HERE.
###