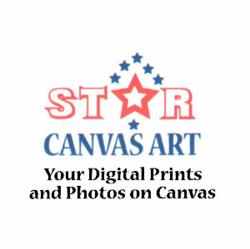 Glen Cove, NY (PRWEB) October 18, 2011
Star Canvas Art has provided photo to canvas printing services for nearly two years. Today the company announces a new website to promote the manufacture and distribution of beautifully hand crafted photo to canvas prints that bring photographs to life.
"After years of success at flea markets, fairs and local businesses, we are finally ready to bring our products to the web." states Lynne Silversey, CEO of Star Canvas Art, Inc. "The quality of the photo to canvas prints we produce sets us apart from the competition." The professional staff of Star Canvas Art prides themselves on creativity and guarantees the quality of all canvas print services.
Photographs or digital images that are converted to canvas prints are embellished by a professional artist using the latest archival gel mediums to create texture and highlights. The embellishment process gives each canvas print a beautiful "oil painted" appearance." In addition to refined gels, each canvas print has four additional coats of archival varnish applied to provide lasting beauty and protection.
Canvas printing enhancements should only be conducted with high quality and reliable materials. According to Lynne Silversey, "We never use any re-manufactured ink cartridges to insure lasting quality and beauty." StarCanvasArt.com's staff of creative experts will convert any photograph or digital image into a personal portrait using heavy duty archival canvas that is certified not to discolor or fade for 100+ years.
Photo to canvas prints are gallery wrapped by hand using 1.25" stretcher bars. Star Canvas Art pays special attention to each detail that goes into all personal portraits and understands that every canvas print has special meaning. "The techniques we apply will show subtle raised brush strokes that make canvas prints look hand painted." according to Silversey. "Our customers treasure each photo to canvas print for a lifetime."
The holidays are approaching and Star Canvas Art can craft the perfect photo to canvas print gift from any image; gallery wrapped and ready to display. As part of StarCanvasArt.com's on-going commitment to customer service, each proof is drafted for review by customers before the portrait is printed.
For more information on converting photographs to canvas or a complete list of affordable products and services please visit http://www.StarCanvasArt.com
About Star Canvas Art, Inc.
StarCanvasArt.com is a leading photo to canvas print service provider. We manufacture and distribute high quality canvas prints by leveraging time-tested and proven methods of embellishment to convert our customers most cherished memories into beautiful works of art. StarCanvasArt.com is a wholly owned and operated by Star Canvas Art, Inc of Glen Cove, NY.
###