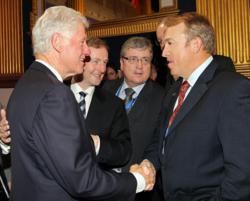 Salt Lake City, Utah (PRWEB) October 12, 2011
Certiport (http://www.certiport.com), the official test delivery solution provider for the global workforce and academic markets, is pleased to announce the Company's participation in the Global Irish Economic Forum in Dublin, Ireland. Ray Kelly, Certiport President and Chief Executive Officer, was invited to contribute to the Forum to highlight the importance of a clear information and communication technology (ICT) and digital literacy strategy with attendees including former President of the United States Bill Clinton. Clinton, an Irish-American, gave an upbeat final address at the Forum and encouraged attendees to partner with senior business leaders worldwide to maximize foreign investment in Ireland.
Ireland's Taoiseach (Prime Minister), Enda Kenny, invited Kelly and other Irish diaspora business and cultural leaders to the two-day event at Dublin Castle. Kelly also participated in an Irish-American business relations conference and attended a reception for Irish-Americans at the home of the U.S. Ambassador, Dan Rooney. This was the second meeting of members of the Global Irish Economic Forum in Dublin who will continue to meet bi-annually to discuss practical steps on making Ireland a more attractive place for investment, higher education and tourism.
"I enjoyed the opportunity to speak with former President Clinton and Taoiseach Kenny about the importance of ICT skills development and digital literacy in their efforts to bridge the digital divide in Ireland and all over the world," said Kelly. "One of the dominant themes at the meeting was re-establishing Ireland's education system and its importance in addressing the youth unemployment crisis. I shared best practices with the group on how other countries are using ICT industry certification to help to alleviate these problems, and suggested methods to better prepare Irish students for the workforce."
Approximately 70 million people worldwide claim Irish descent, nearly 11 times the country's current population. The Global Irish Economic Forum is part of a strategy to use Ireland's cultural heritage to help rebuild its struggling economy.
Certiport and Prodigy Solutions, the company's partner in Ireland and the United Kingdom, have already made progress in using industry certification as a method to help reduce the massive skills gap in Ireland. Certiport and Microsoft's IT Certifications are currently being mapped to the National Framework of Qualifications (NQF) through the efforts of Prodigy Learning.
"The problems with youth unemployment and the higher education system in Ireland are well-documented, and as a person of Irish-descent I am optimistic that the Global Irish Economic Forum will help to address Ireland's academic and economic challenges," said Kelly. "By providing globally recognized IT education and certification solutions in Ireland, students have the opportunity to benchmark their skills against global standards and benefit from European initiatives such as Youth on the Move."
Certiport plans to continue talks with the Irish Minister of Education Ruairi Quinn and other officials regarding industry certification in Ireland.
About Certiport
Certiport is the leading provider of certification exam development, delivery and program management services which include practice tests via MeasureUp® delivered through an expansive network of over 12,100 Certiport Authorized Testing Centers worldwide. Certiport manages a sophisticated portfolio of leading certification programs including: the official Microsoft Office certification program, the Microsoft Technology Associate certification program, the Adobe® Certified Associate certification program, the CompTIA Strata™ IT Fundamentals, the Autodesk Certified User certification program, the Intuit QuickBooks Certified User certification program and the Internet and Computing Core Certification (IC³®). Certiport reliably delivers over two million tests each year throughout the secondary, post-secondary, workforce and corporate technology markets in more than 150 countries and 25 languages worldwide. For more information, please visit http://www.certiport.com or follow Certiport on
Twitter at http://www.twitter.com/certiport.
"Certiport," "IC³" and "MeasureUp" are registered trademarks of Certiport, Inc. in the United States and other countries. "Microsoft" is either a registered trademark or trademark of Microsoft Corp. in the United States and other countries. The names of actual companies and products mentioned herein may be the trademarks of their respective owners.
###