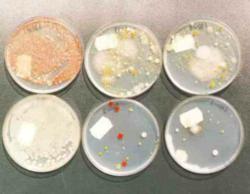 EurekaMag.com - Health Sciences
(PRWEB) October 13, 2011
The Health-Science Magazine Eurekamag.com provides insights into scientific topics related to health and the biological background behind health-related disorders. Such new reviews are published on a daily basis. The latest inclusions in this collection of reviews comprise the two gastroenterological topics "Pancreas Function" and Norovirus.
Gastroenterological diseases affect the organs along the alimentary canal from mouth to anus. The Pancreas Function is twofold and includes that of the endocrine cells within the pancreas and that of the exocrine cells outward of the pancreas. The endocrine cells produce and secrete the pancreatic hormones insulin and glucagon into the bloodstream whereas the exocrine cells produce and transport enzymes into the body's digestive system. The published review includes results of multiple medical research on pancreas function and particularly covers research on pancreatic cancer which embraces up to twenty different tumor diseases.
Norovirus is an RNA virus responsible for epidemic and usually foodborne outbreaks of gastroenteritis. The virus is transmitted by contaminated water and food, by person-to-person contact, and via aerosolization of the virus. Noroviruses can genetically be classified into 5 different genogroups. Infections are usually associated with nausea, vomiting, diarrhea and abdominal pain. The review on norovirus covers epidemiological aspects of gastroenteritis caused by the virus and analyses of epidemic outbreaks in different parts of the world.
EurekaMag.com was initially launched in November 1998 as the online version of the French science magazine "Eurêka - Le magazine des sciences" published by Bayard since 1995. During the past decade, it has emerged as a comprehensive aggregator of websites and science references in biology, in the applied life sciences agriculture, horticulture and forestry, in the earth sciences, in the environmental sciences, and in the health sciences. During the end of 2010 it received ca. 40,000 page impressions per day but was republished after a change of ownership in early 2011.
The Science Magazine has recently been accredited by the Chinese Ministry of Information Industry with the registration number 案ICP备10204677号. It also includes a directory to which users can submit their information on biological topics. This directory currently contains 13,705 categories. The site delivers its content through a number of RSS feeds and an @EurekaMag Twitter account. One of these feeds is the Latest Science New Additions and Updates RSS feed. The site accepts advertisements through the Google AdWords system. Potential advertisers may use EurekaMag.com for their advertising campaigns if their niche falls within the scope of the Science Magazine.
###