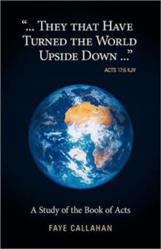 Waycross, GA (PRWEB) October 13, 2011
The Book of Act s get the full analysis treatment in Faye Callahan's new book "'...They That Have Turned The World Upside Down...' Acts 17:6 KJV: A Study of the Book of Acts" (published by WestBow Press).
"When the reader finishes reading this book and studying the Book of Acts in the Bible, I would like for him to have a greater knowledge of the people who sacrificed their lives to spread the gospel of the Lord Jesus Christ," says Callahan.
"'...They That Have Turned The World Upside Down...' Acts 17:6 KJV" begins in Jerusalem as Jesus spreads God's message throughout Judea and Samaria. Prominent cities and apostles are profiled, giving readers an in-depth look at the period.
An excerpt from "'...They That Have Turned The World Upside Down...' Acts 17:6 KJV":
"All my life I have heard from pastors and friends alike, 'You ought to read the Bible through this year.' I have read my Bible faithfully from the day I gave my heart to the Lord at the age of 17. At the beginning of 2010 I was determined I would be able to say I have read my Bible all the way through. As a matter of fact I read it through twice that year. When 2011 came I thought, 'What good would it accomplish just to read it through again?' I decided I would do something different, I didn't know what, but it would be different."
A longtime Bible study instructor, Callahan lists helping people understand the Word of God as her greatest passion. "This book is written for people who have been Christians for many years and for new converts," says Callahan. "It is also my hope that it will be of benefit as a teaching tool for ministers and teachers as they prepare their messages."
About the Author
In 1954, Faye Callahan fulfilled her desire to become a schoolteacher and moved to a little town in Georgia called Hoboken. She attended Emmanuel College in Franklin Springs, Georgia and received a Bachelor of Science in education. She later received a Master of Education from Georgia Southern College, Statesboro, Georgia. She has been a Sunday school teacher for 60 years, teaching every age group.
WestBow Press is a strategic self-publishing alliance of Thomas Nelson, the world's premier Christian publisher, and Author Solutions, Inc. (ASI)—the world leader in the fastest-growing segment of publishing. Through this partnership, authors benefit from the rich publishing heritage of Thomas Nelson and the speed-to-market advantages of the ASI self-publishing model. Titles published through WestBow Press will be evaluated for sales potential and considered for publication under the Thomas Nelson imprint. For more information, or to start publishing today, visit westbowpress.com or call 866-928-1240.
# # #